Apple Inc. (NASDAQ:AAPL): Apple's board is reportedly taking CEO Tim Cook to task over the company's rate of innovation, or lack thereof. Fox News's Charlie Gasparino said that a recent shortage of  new products is "manifesting into pressure on Tim Cook to basically innovate, do something fast." Gasparino does note, though, that "this doesn't mean that Tim Cook is out of a job."

Google Inc. (NASDAQ:GOOG): Google will be taking advantage of the 1 billion or so people who use its Maps program each month by installing search-based local ads. The ads, designed for Google's mobile platform, will appear at the bottom of their phone screens, and Google will get paid when users tap an ad to get more details or when they tap to obtain directions or place a call.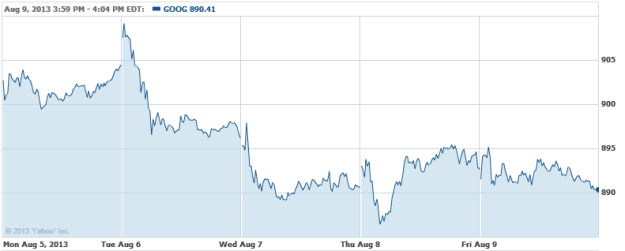 BlackBerry (NASDAQ:BBRY): BlackBerry shares are racing more than 5 percent as reports signal that CEO Thorsten Heins and the company's board are considering taking the company private. The move, which echoes Dell's (NASDAQ:DELL) current situation, would be an effort to try and restructure and solve the company's numerous problems away from the unrelenting Wall Street oversight.