3 Tech Titans Making Noise: Apple's iPad Price Cut, Amazon's Original Content, BlackBerry's New Course of Action
Apple Inc. (NASDAQ:AAPL): It didn't take all that long, but Wal-Mart (NYSE:WMT) cut its price on the new iPad Air below the recommended retail price by $20, to $479. The move set off a trend, as Staples, Target, Best Buy, and oddly enough, Apple itself, will match the price cuts in their respective stores (for Apple and Best Buy, physical presence is required — the deal doesn't apply online). The $20 discount applies to the 16GB Wi-Fi version of the tablet; RadioShack will also be offering the tablet at the recommended $499 price, alongside increased trade-in values for older-generation iPads.

Amazon.com Inc. (NASDAQ:AMZN): In less than two weeks, Amazon will debut the first three episodes of "Alpha House," Amazon's first attempt at original programming. Each episode of the political drama is reported to have cost the retailer between $1 million and $3 million; Amazon's streaming programming is free for all Amazon Prime customers, as the company moves to persuade users to buy into its growing ecosystem.

BlackBerry Ltd. (NASDAQ:BBRY): BlackBerry shares are off sharply after it was revealed that the company is abandoning its hunt for a buyer and is instead replacing its incumbent CEO, Thorsten Heins. Rather than a sale to another party, Fairfax Financial and other institutional investors will be investing $1 billion in BlackBerry by means of a convertible debt featuring a 6 percent yield and a $10 per share conversion price.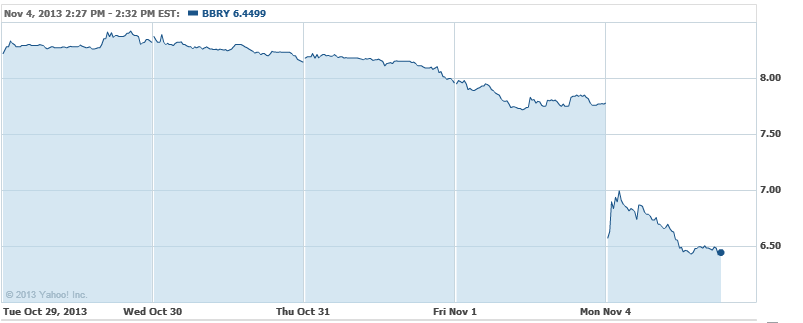 Don't Miss: Tim Cook on Anti-Discrimination Bill: 'Matter of Basic Human Dignity'.