3 Tech Titans Making Noise: Apple's Legal Win, Microsoft's Big Roadmap, BlackBerry Settles with Kik
Apple Inc. (NASDAQ:AAPL): Apple scored a win on Tuesday when the White House refused to veto a ban on older devices made by Samsung (SSNLF.PK). The International Trade Commission ban was deemed to have infringed on Apple's patents, while the White House argued that the Apple patents "weren't standards-essential, and the Samsung patent was." Despite the uproar regarding the recent patent suits over Samsung's older devices, the ban won't affect the company's latest phones, and it's unlikely that the ban will have a significant impact on Samsung's sales.

Microsoft Corp. (NASDAQ:MSFT): Executive Vice President of Cloud and Enterprise Satya Nadella has revealed the fall roadmap for the businesses that — prior to Microsoft's big reorganization — made up its Server & Tools unit. Products being launched include new versions of Microsoft's Dynamics CRM and supply-chain software, refreshes for the Visual Studio and .NET software development platforms, updates to Windows Server 2012 and System Center 2012, a version of Windows Azure meant for government clients, and a service launched in partnership with Equinix that allows users of Equinix's data centers to directly connect to Azure, Seeking Alpha reports.

BlackBerry (NASDAQ:BBRY): BlackBerry has put to rest an infringement suit from 2010 regarding Kik Interactive's development of a rival instant messaging application to its BlackBerry Messenger that eventually surpassed the latter in popularity, The Globe and Mail reports. The terms of the settlement were undisclosed. BlackBerry claimed Kik made false and/or misleading statements about its product, which resulted in market "confusion."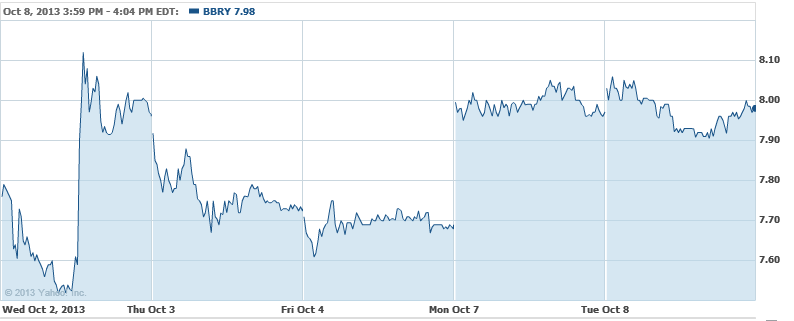 Don't Miss: Here's Why DoCoMo Is Losing Subscribers Despite an Apple Deal.