3 Tech Titans Making Noise: Apple's Maverick OS, Amazon's Services Sales Soar, Microsoft's Cloud Success
Apple Inc. (NASDAQ:AAPL): If you ever want to move units of something, make it free: Apple's Mavericks operating system, free for existing Mac users, has been downloaded at a record-setting pace. Reports show that user adoption of OS X Mavericks in the U.S. and Canadian markets reached 5.5 percent within the first 24 hours after the software's release, trouncing the 1.6 percent set by OS X Mountain Lion last year.

Amazon.com Inc. (NASDAQ:AMZN): Amazon has reported earnings per share of -9 cents, falling in line with projections, as revenue of $17.1 billion beat by $400 million. Product sales surged 19.6 percent in the third quarter, though that figure was dwarfed by services sales, which saw gains of 45 percent. North American sales grew 31 percent as international contributed 15; Amazon's cost of sales rose 20 percent to $12.366 billion during the period.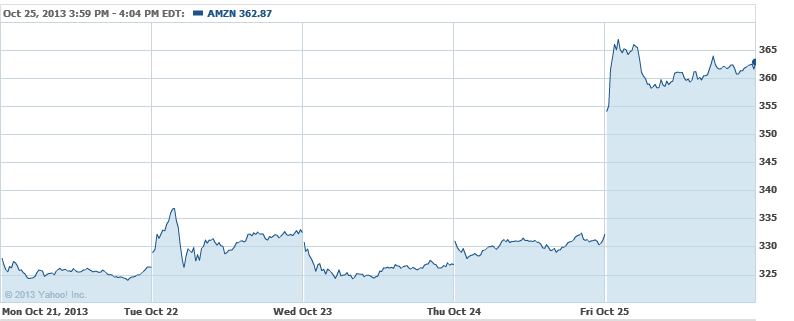 Microsoft Corp. (NASDAQ:MSFT): Microsoft shares are up a healthy 7 percent as EPS of 62 cents beat estimates by 8 cents and revenue of $18.53 billion also beat, by $740 million. The new Commercial Licensing reporting segment (which consists of Office and Server & Tools licenses) posted a 7 percent year-over-year revenue gain, while commercial cloud sales rose 103 percent. Windows OEM sales dropped 7 percent over the year-ago period after dropping 15 percent in the quarter previous.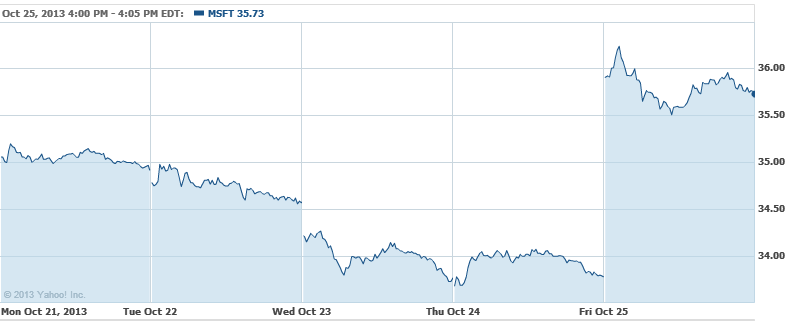 Don't Miss: Munster: Here's What to Expect At the Apple September Quarter Earnings Announcement.