3 Tech Titans Making Noise: Apple's New Suppliers, Microsoft's CEO Picks, BlackBerry Finds Fans in Qatar
Apple Inc. (NASDAQ:AAPL): Apple will be adding some new contract manufacturing partners in its Asian operations to increase the production of its smartphones and tablets, supply chain sources told the Wall Street Journal. Apple is planning to outsource the manufacturing of the iPhone 5C to Wistron Corp., based in Taiwan. The sources also indicated that Apple will use Compal Communications to assemble its iPad Mini starting next year. The supplier roster is expanding, since Apple's main producer — Hon Hai — has its hands full with the company's iPhone 5S.

Microsoft Corp. (NASDAQ:MSFT): Reuters is saying that of the 40 potential candidates for Steve Ballmer's CEO seat at Microsoft, the company has narrowed down the list to just five potential candidates, with Ford Motor Co. (NYSE:F) CEO Alan Mulally and former Nokia (NYSE:NOK) CEO Stephen Elop still in the running. Also on the slate is former Skype CEO Tony Bates, who is now responsible for Microsoft's business development, and Satya Nadella, the company's cloud and enterprise chief, Reuters' sources indicated. However, they cautioned that the final selection could still take several months.

BlackBerry (NASDAQ:BBRY): Reuters says that a Qatari sovereign wealth fund has invested as much as $200 million into BlackBerry's $1 billion convertible debt offering, supposedly lured by the 6 percent return on the investment. This particular cash injection is stands out because the Middle East remains in good standing with BlackBerry, and the sheer size is smaller only than Fairfax Financial's $250 million pledge.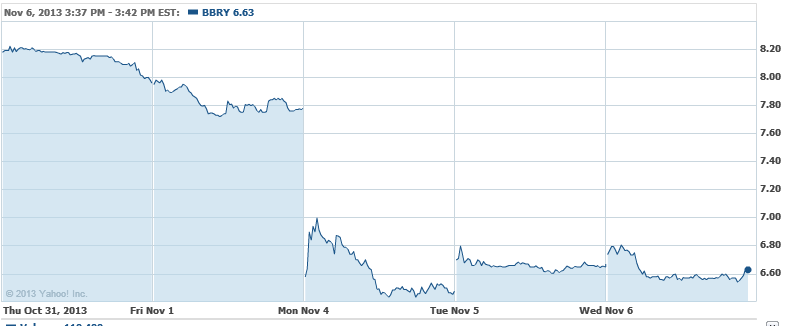 Don't Miss: Apple Publishes Report on NSA Requests.