3 Tech Titans Making Noise: Apple's Production Investment, Amazon Debuts WorkSpaces, Google's Moto G Phone
Apple Inc. (NASDAQ:AAPL): Apple is investing $10.5 billion into new technology like assembly robots and milling machines to help maintain the torrid pace of mass production of its iPhones and iPads. Included are machines to polish the new iPhone 5C's colorful plastic, laser and milling machines to carve the MacBook's aluminum body, and testing gear for the iPhone and iPad camera lens, sources told Bloomberg. "Apple has so much cash that they can invest in cutting-edge, world-class machinery that is typically used for aerospace and defense," Muthuraman Ramasamy, an analyst with Frost & Sullivan, said to the news service.

Amazon.com Inc. (NASDAQ:AMZN):  During the annual re:Invent conference, Amazon Web Services unveiled WorkSpaces, a PC virtualization product that offers businesses the option to host virtual desktops on Amazon's cloud infrastructure. Amazon claims that WorkSpaces will be easier to manage than the more traditional PC virtualization offerings, as it also carries far lower upfront costs; it'll run $35-$60 per month per user initially.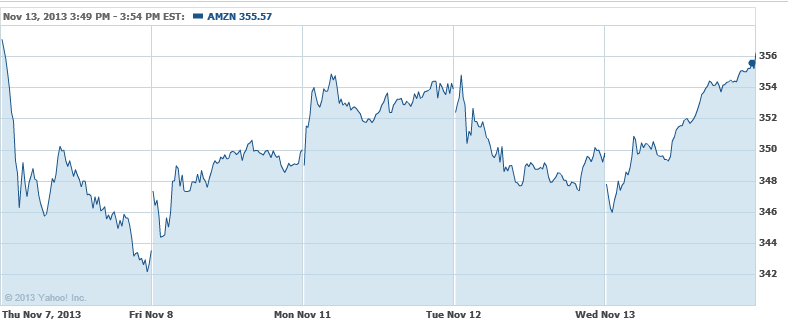 Google Inc. (NASDAQ:GOOG): Google on Wednesday announced its Moto G phone, which comes with a starting price tag as low as $179 . This is a departure from Google's Nexus series of mobile devices, which, though they received publicity, were generally not met with overwhelming success due to their high cost. The Moto G will not require locking into a specific carrier, making it a so-called "unlocked" phone, to use the device.
Don't Miss: Analyst: Get Your iPad Mini 2 Now, Before It's Too Late.