3 Tech Titans Making Noise: Apple's Strong Quarter, Nokia's Losses Narrow, Google's Latest Tech
Apple Inc. (NASDAQ:AAPL): Apple on Monday reported earnings per share of $8.26, beating by 33 cents, while revenues of $37.47 billion also beat, by $630 million. Shares are trading around flat despite positive analyst chatter and a round of price target increases; the company moved 33.8 million iPhones, 14.1 million iPads, and 4.6 million Macs during the period. Gross margin fell at 37 percent, which, although dropping 300 bps year over year, came in at the high end of a guidance range of 36 percent-37 percent. R&D spending grew 29 percent to $1.17 billion year on year, as SG&A saw a 5 percent gain to $2.67 billion.

Nokia Corp. (NYSE:NOK): Nokia reported non-IFRS EPS of 0.01 euros with revenue of 5.66 billion euros as NSN's operating margin and guidance are bringing shares of Nokia up over 8 percent. However, although each division saw declines – NSN fell 7 percent, HERE slid 20 percent, and Devices & Services dropped 19 percent — the losses were narrower than expected; gross cash on hand prior to the deal with Microsoft being completed totaled 9.1 billion euros.
Google Inc. (NASDAQ:GOOG): Google's smartwatch is apparently in the late stages of development, and discussions with Asian manufacturers to begin mass production have already started. A source indicated that the unit "could be ready for mass production within months," but it doesn't seem as though the watch will arrive in time for the holiday season. The Wall Street Journal has noted that Google Now's push notification services will be tightly integrated and that Google has made long battery life a priority.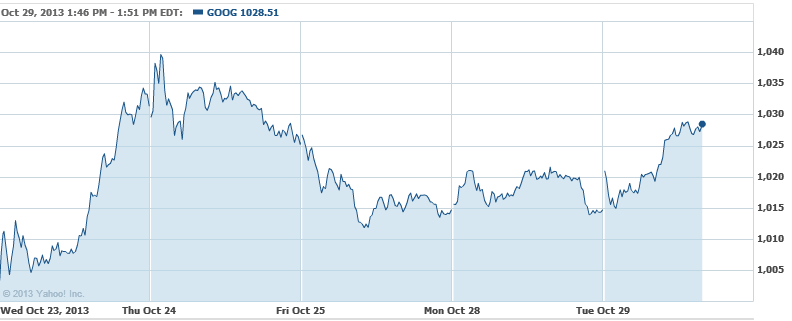 Don't Miss: Did Apple Commit a Design Faux Pas in iOS 7?