3 Tech Titans Making Noise: New Apple TV Possible, Sony's Camera Pics, and Microsoft's Xbox Date
Apple Inc. (NASDAQ:AAPL): Global trade intelligence firm Panjiva pointed out that Apple received large set-top shipments from Chinese contract manufacturer BYD Precision last month, indicating that there might be a new Apple TV set-top unveiled at the iPhone event on Tuesday. Other speculation and observations have also pointed to Apple's sooner-rather-than-later Apple TV replacement, though the company has remained mute on the subject.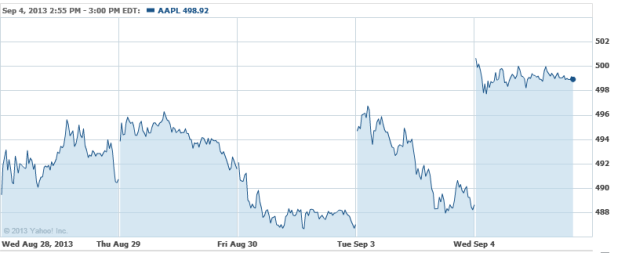 Sony Corp. (NYSE:SNE): Pictures of the QX10 and QX100 "lens camera" accessories have surfaced online. The lenses are able to turn ordinary smartphones into high-end imaging devices. The QX10 will cost in the neighborhood of $250 and feature an 18-megapixel, 1/2.3-inch sensor; the QX100 will fall closer to $450 and boast a 20-megapixel, 1-inch sensor with Carl Zeiss optics and a larger aperture.

Microsoft (NASDAQ:MSFT): Microsoft's Xbox One will be dropping in stores November 22, one week after Sony's PlayStation 4. However, European markets will reportedly have access to the device a week before that date. Xbox exec Yusuf Mehdi says most of Microsoft's preorder supply has been sold out, and the PlayStation 4 has apparently surpassed 1 million preorders. Early preorder demand was dented by game resale and Internet verification policies, which Microsoft has since reversed its position on.