4 Consumer Stock Stories Getting Noticed On Tuesday
J.C. Penney & Co. (NYSE:JCP): Closing price $15.98
The New York State Supreme Court Judge Jeffrey Oing will hear closing arguments in regards to whether J.C. Penney can sell Martha Stewart branded bed, bath and kitchen home goods on August 1, and will state his verdict soon afterwards, says the court calendar. Macy's says that rights to the merchandise is exclusive to it under a long-standing arrangement. Meanwhile, Penney's owns a 17-percent interest in Martha Stewart Living. The judge will also rule whether Penney can sell certain Martha Stewart-designed goods. Oing has said that he will render a verdict soon after summations, according to Reuters.
Are these stocks a buy or sell? Let us help you decide.
Carnival Corporation (NYSE: CUK): Closing price $35.60
On Tuesday, Carnival announced its plan to divide the roles of chairman and chief executive. Chairman Micky Arison will continue to serve in his present position,  and a board member of 12 years, Arnold W. Donald, will become chief executive effective July 3. Arison became chief executive in 1979; at that time, Carnival was privately held and operated three cruise ships under one brand, earning $44 million in revenues and carrying roughy 160,000 passengers a year.
Are these stocks a buy or sell? Let us help you decide.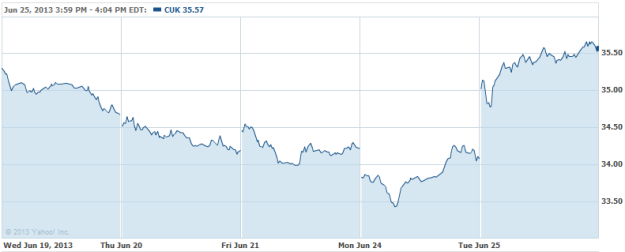 Sony Corporation (NYSE:SNE): Closing price $20.40
Sony is expanding the features of its Music Unlimited streaming service to Apple's iPhone, and slashing prices in half so as to challenge the industry leader Spotify. Owners of iPhone and iPod Touch devices will be enabled to store music on the devices for listening when Internet service is unavailable, said Sony Entertainment Network on its website. The feature, which is already offered by Spotify, Rdio and Rhapsody International, is being examined by Apple and should be available soon, said the statement.
Are these stocks a buy or sell? Let us help you decide.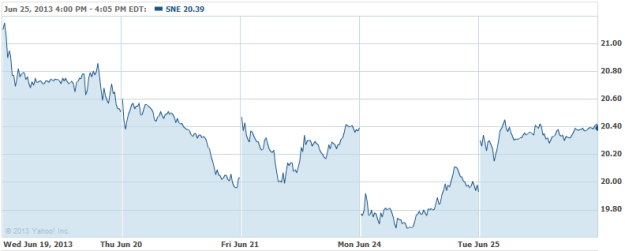 BJ's Restaurants (NASDAQ:BJRI): Closing price $35.75
BJ's Restaurants is planning for 17 new restaurants to be opened in 2013, according to Chief Executive Greg Trojan. Based in Huntington Beach, California, the company began in 1978 as a stand-alone 'Santa Ana deep-dish pizza and beer joint,' and is now a publicly traded firm with 132 restaurants in 15 states, and plans to eventually increase to a minimum of 452 domestic locations. Trojan said, "There is a long runway of expansion ahead."
Are these stocks a buy or sell? Let us help you decide. Check out our Stock Picker Newsletter now.