4 Tech Stock Stories Busting Loose on Thursday
Google Inc. (NASDAQ:GOOG): Current price $1007.96
According to Engadget, Google Drive offers an alternative to Apple's in-house solution, and Thursday's iOS application update debuts a couple of new features. Now, the app supports multiple accounts, so users may access their personal, occupational, or alter ego GDrive files more easily. For those who would rather have an actual piece of paper instead of an iPad with which to see their document review, iOS users may now print using either Apple's AirPrint or Google's CloudPrint protocol.
Splunk Inc. (NASDAQ: SPLK): Current price $61.66
The supplier of the software platform for real-time operational intelligence on Thursday said that it has named Todd Papaioannou as chief technology officer. Papaioannou will report directly to Splunk Chair and Chief Executive Godfrey Sullivan, and in his position as CTO, he will help define Splunk's tech vision, strategy, and roadmap. Splunk co-founder and former Chief Technology Office Erik Swan will stay with the company as a senior advisor to the executive team.

Autodesk Inc. (NASDAQ:ADSK): Current price $41.76
On Thursday, Autodesk announced that it will acquire Delcam, a provider of advanced software for  the manufacturing industry. The purchase price for Delcam will be 20.75 euros per share, or roughly 172.5 million euros. The transaction will be structured as a cash offer for all the outstanding shares of Delcam, is subject to the usual closing conditions including regulatory approvals and should close in Autodesk's first quarter of fiscal 2015. The buyer expects to use its non-United States-based cash for the transaction.

Renren Inc. (NYSE:RENN): Current price $3.25
Renren and the Social Media Content firm Socialgist have announced a working partnership. Socialgist is the first official provider of social media data from the Chinese networking service outside of Mainland China, and provides social data solutions for the majority of the social media analytics, research and business intelligence platforms.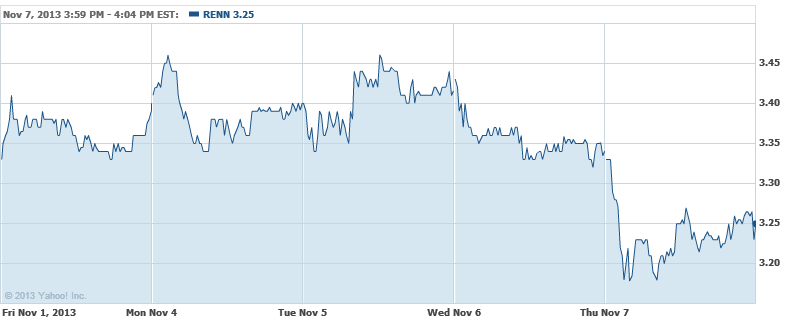 Don't Miss: Google: Floating Barge Structure Is Ours, Not a Party Boat.