4 Tech Stock Stories Buzzing Along on Thursday
EBay Inc. (NASDAQ:EBAY): Closing price $51.31
EBay says that it has recruited an Apple e-commerce executive to lead a new group that will oversee new products for the firm's core marketplace business. R.J. Pittman will become chief product officer, a newly-created post, and will report to President Devin Wenig. Pittman was previously a director of product management at Google, and managed online sales in 38 countries while at Apple. In an interview, he observed that because eBay's core business is commerce, "the opportunity is that much greater for me."

Google Inc. (NASDAQ:GOOG): Closing price $889.21
Google has updated its own mobile wallet offering, Google Wallet, which is now integrated within the top Android apps and mobile sites. The move should facilitate paying with a Google Wallet account. Google Wallet can be used at a broad variety of Google services, such as Google Play, and inside the Google Wallet app, together with other sites, and all consumers need do is press the "Buy with Google" button, verify their payment data, and the transaction is done. The update appears only a couple of days after Square debuted Square Cash, which is a feature to send money to others directly by means of email. Google also has this feature, but it is only available for Gmail users, whereas Square permits users to send money via any email address.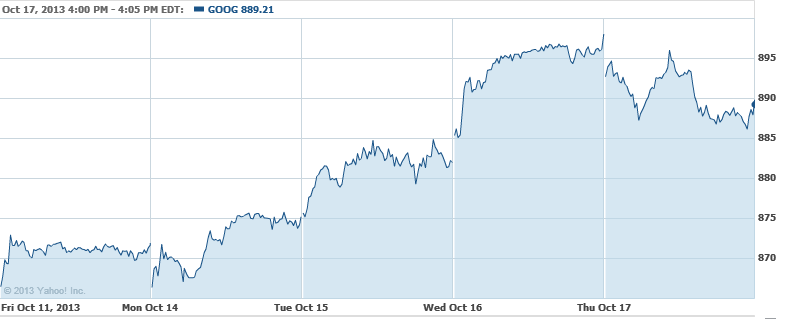 Amazon.com Inc. (NASDAQ:AMZN): Closing price $310.64
Once again, Amazon is being sued for detaining its warehouse workers for as long as 25 minutes, while it searches them for stolen merchandise, and then not paying them wages while the searches go on. The most recent suit was brought by Neal Heimbach of Allentown, Pennsylvania, who seeks over $50,000 in unpaid wages for 100 employees at Amazon's logistics facility in neighboring Breinigsville. The Morning Call reports that, "In lawsuits filed in Philadelphia and Luzerne County state courts, former employees at Amazon's sprawling fulfillment centers in Breinigsville and Hazleton allege that workers are required to spend anywhere from five to 25 minutes waiting to pass through metal detectors at the end of their shifts and before meal breaks."

Splunk Inc. (NASDAQ:SPLK): Closing price $62.62
On Thursday, Emulex Corp announced the Emulex Endace Fusion Connector for Splunk, an open workflow solution for identifying and resolving network security matters. The Connector for Splunk optimizes data analysis workflows between its array of EndaceProbe Intelligent Network Recorders and Splunk's third-party monitoring and security tools that detect anomalous network behavior. Joined with EndaceProbe INRs, the combined solution supplies organizations with the ability to detect and investigate problems at the network packet-level so as to reduce time-to-resolution.

Don't Miss: Google X Leader on Wearable Computing: It's Coming.