4 Tech Stock Stories Due For a Tuesday Download
Google Inc. (NASDAQ:GOOG): Closing price $905.24
On Tuesday, analyst Gene Munster at Piper Jaffray reiterated an Overweight on Google shares along with a $935 price target, saying self-driving cars of the type the firm has researched "will be one of the next truly game-changing mass technologies." Munster added that this could be an opportunity worth $200 billion. Munster cited United States government data implying a reduction in driver error — and thus a reduction in auto deaths — could be the catalyst needed to make the technology widely available. Beyond that, Munster mentions that self-driving cars are already legal in Nevada, California, and Florida, and that he thinks Google is testing over 100 cars in those states.
Are these stocks a buy or sell? Let us help you decide.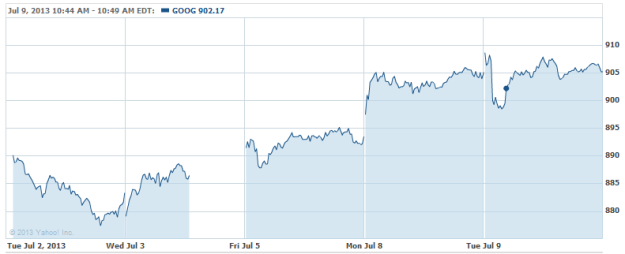 Microsoft Corp. (NASDAQ:MSFT): Closing price $34.35
Several inside sources say Microsoft Chief Executive Steve Ballmer is ready to reveal his plan to sharply restructure his huge company this week, possibly on Thursday, according to Kara Swisher at AllThingsD. A number of matters are still undecided because of the planned major reorganization by Ballmer, which has stirred up some nervousness in top executives at Microsoft. Sources say the endeavor is to create something called "functional coherence" at the firm, although it's not certain when details of the restructuring will be known to all.
Are these stocks a buy or sell? Let us help you decide.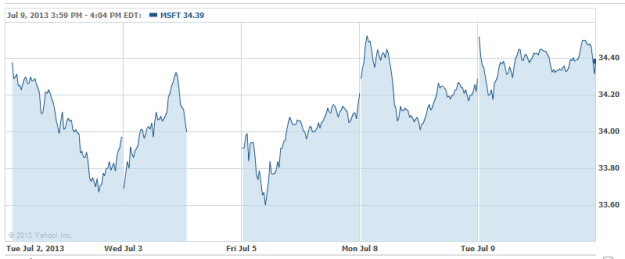 BlackBerry (NASDAQ:BBRY): Closing price $9.64
Chief Executive Thorsten Heins has told investors at the subdued annual meeting that BlackBerry is on target for a rebound, despite the disappointing intro of its high-stakes line of smartphones, while conceding that the firm is open to any options that would help create value for its investors. Heins also commented that "BlackBerry will pursue every opportunity to create value for shareholders." Following his remark, which was made while speculating whether the company would check out licensing opportunities, BlackBerry shares closed up 0.93 percent on the day.
Are these stocks a buy or sell? Let us help you decide.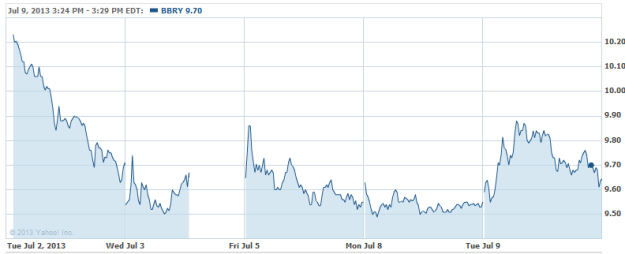 Amazon.com Inc. (NASDAQ:AMZN): Closing price $291.53
BGR reports that Amazon is planning a complete remake of its Kindle Fire tablet lineup for the current year, and that it has learned exclusive details regarding the forthcoming devices. According to one study, Kindle slates are still the number-two desired tablet series, right behind Apple's coveted iPad lineup. In 2012, Samsung passed Amazon for the second-ranked spot in world tablet shipment volume, but the firm is stumbling now and its new tablets are not getting a lot of attention. While Amazon's biggest bookselling competitor pulls back from tablet hardware and gives the company some breathing room, Chief Executive Jeff Bezos and his team will keep coming out with brand new devices ready to appear in the coming months.
Are these stocks a buy or sell? Let us help you decide. Check out our Stock Picker Newsletter now.