4 Tech Stock Stories for a Friday Download
Apple (NASDAQ:AAPL): Current price $423.20
Samsung is poised for a battle with Apple, and will staff mini-stores at Best Buy Co.'s United States locations to highlight how its tablets, smartphones and televisions work together, according to Bloomberg. Beginning April 8, Samsung will open 500 Samsung Experience Shops inside Best Buy, requiring around 460 square feet of prime space near the front of its largest stores, said Samsung said in a statement on Thursday. Financial terms were not disclosed.
Are these stocks a buy or sell? Let us help you decide. Check out our Stock Picker Newsletter now.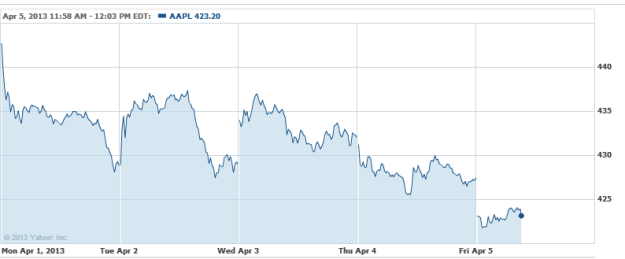 Groupon (NASDAQ:GRPN): Current price $5.87
Groupon will work jointly with ASUS to debut a brand new ASUS MeMO Pad with 7-inch display and 10-finger multi-touch. The pad will be available exclusively on Groupon Goods April 6. Enhancing the deal, the ASUS MeMO Pad arrives bundled with a Wilsons genuine leather case for $159.99 and a 20-percent discount on the MSRP of the combined items.
Verizon Communications (NYSE:VZ): Current price $49.27
Verizon Chief Executive Lowell McAdam has introduced a full no-contract wireless world, saying that it was "pretty easy" to change up the model to eliminate contracts, and also said that he would monitor the consumer response that T-Mobile receives from its recent move to drop contracts and phone subsidies in their entirety. He showed a willingness to follow suit if consumers begin asking for it, said CNET. McAdam said to reporters on the sidelines at an event to raise awareness for Verizon's "Powerful Answers" initiative, that "I'm happy when I see something different tried. We can react quickly to consumers' shifting needs."
Are these stocks a buy or sell? Let us help you decide. Check out our Stock Picker Newsletter now.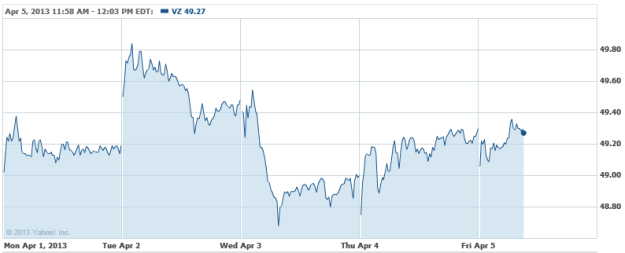 Nokia Corporation (NYSE:NOK): current price $3.33
The mobile phone maker has closed its flagship store in Shanghai as part of a strategy to lower costs and sell its phones via carriers and retail partners instead. The Finnish firm confirmed it shut its largest store last week, leaving Helsinki the one remaining flagship outlet. In an e-mail, a spokesperson said, "For a while now, we've been focusing on operator and third-party retail outlets, rather than our own physical stores."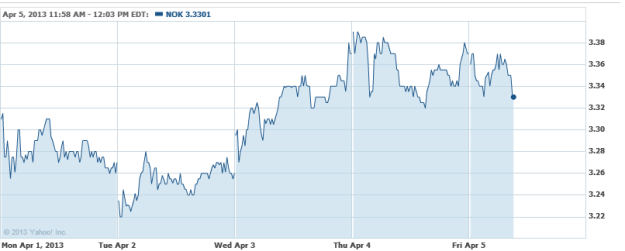 Don't Miss: Motorola Unlocks Apple's Slide Patent.