4 Tech Stock Stories For a Midweek Download
Advanced Micro Devices (NYSE:AMD): Current price $3.60
Microsoft Corporation has recruited AMD to deliver the processing power in its forthcoming Xbox console, according to Bloomberg. The next Xbox could be unveiled in May, and consists of a system-on-a-chip sporting both AMD's Jaguar CPU and a graphics chip that is more powerful than the one available in the current Microsoft console. The chip is based on x86 architecture, indicating that it will be much easier for game developers to port their titles from PCs or mobile devices.
Are these stocks a buy or sell? Let us help you decide. Check out our Stock Picker Newsletter now.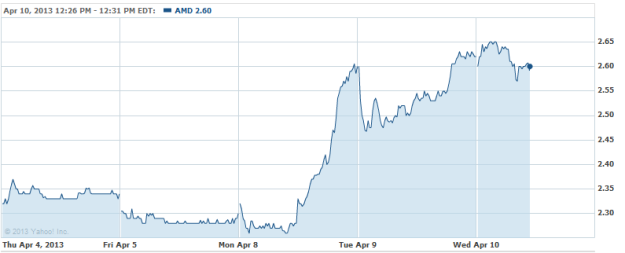 General Motors Company (NYSE:GM): Current price $28.13
The historic carmaker has confirmed to Ad Age that it has returned to being a Facebook (NASDAQ:FB) advertiser, ending a phase in which GM publicly scorned the social network's ad products three days before its now-famous initial public offering. Paid advertising comprises the vast majority of Facebook revenue.  General Motors said on Tuesday that it is "reassessing" its spending on Facebook advertising, which totals around $10 million, but "remains committed" to the social network as part of  "an aggressive content strategy with all our products and brands." Put another way, GM will not pay Facebook for ads but will continue to maintain content, for which Facebook does not collect revenue. News of the decision was first reported in The Wall Street Journal. At the same time, Ford Motor Co. (NYSE:F) reported that it would "accelerate" ad spending on Facebook in connection with the content it produces for the network.

Facebook (NASDAQ:FB): Current price $27.65
Following Google's (NASDAQ:GOOG) debut of its Google+ sign-ins earlier in 2013, social logins once again have become a hot topic. The most recent data from the social login provider Janrain indicates that Facebook continues to be the most popular identity provider for social logins, but that the social network is beginning to lose some ground to Google. The majority of sites that use social logins offer an array of options, with Facebook, Google, LinkedIn (NYSE:LNKD), and Twitter being some of the most popular, but a site's niche can determine whether offering social logins via networks such as SoundCloud or Tumblr might also drive up registrations. Currently, Janrain Engage supports in excess of 25 networks.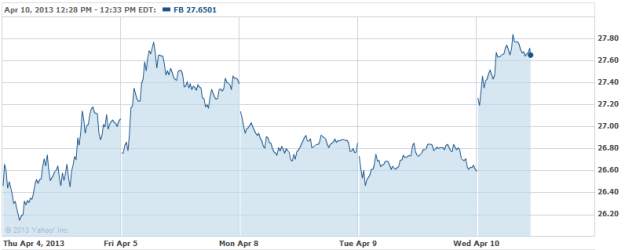 Apple (NASDAQ:AAPL): Current price $434.00
According to Mac Daily News, Apple intends to announce a new model of the Mac Pro in April. The report advises readers that the April date might "slip" all the way through June, at which time Apple is expected to hold its annual developers conference in San Francisco. The last time that Apple updated the Mac Pro was June of 2012, though it was just a tweak in the processors and the amount of built-in RAM. The update excluded a number of other items including USB 3.0, faster Serial ATA, or Thunderbolt, which was the high-speed connection Apple began shipping on all its other computers in early 2011.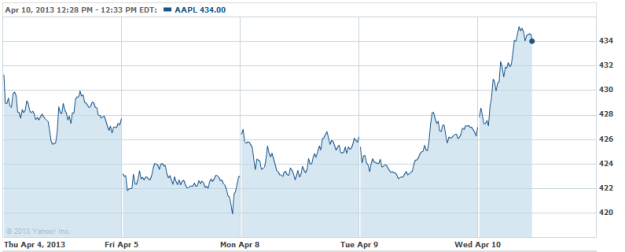 Don't Miss: Is Windows XP Dead?