4 Tech Stock Stories for a Savvy Midweek Scan
Apple (NASDAQ:AAPL): Closing price $423.00
Apple and Amazon.com have not resolved a trademark-infringement lawsuit in regards to use by the latter of the term "app store" after two rounds of talks in a case set for trial on August 19th. Attorneys for the parties spoke by phone for 45 minutes on Friday, and an all-day meeting was conducted on May 1st that included Apple's chief intellectual property attorney B.J. Watrous, and the Amazon assistant General Counsel Andrew DeVore, according federal court filings in Oakland, which indicated that neither meeting brought a settlement. Apple is requesting a court order to disallow Amazon from using the term Appstore in its service to sell software for devices that run Google's Android operating system, alleging that the online retailer infringes its trademark and violates unfair competition laws.
Are these stocks a buy or sell? Let us help you decide.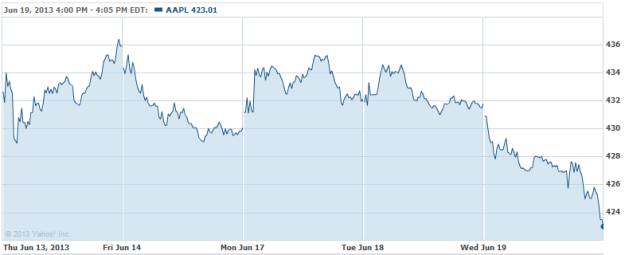 Google (NASDAQ:GOOG): Closing price $900.68
On Wednesday, in a live chat via written questions and answers on the website of the British newspaper The Guardian, Chief Legal Officer David  Drummond defended Google's privacy record, declaring that executives "push back" against unwarranted government requests, and that federal investigators have no "unfettered access" to user data. On the 6th of June, that newspaper broke the story that Google and other Silicon Valley firms permitted the U.S. National Security Agency to access servers and user data under the program Prism. Executives with Google, together with other Internet firms, deny knowing anything about Prism, instead averring that they provide user information as the law requires, but on a case-by-case basis.
Are these stocks a buy or sell? Let us help you decide.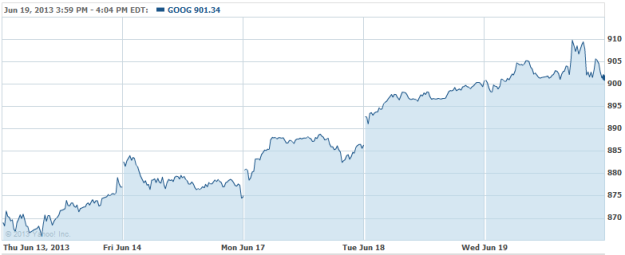 Splunk (NASDAQ:SPLK): Closing price $43.72
The software platform for real-time operational intelligence reported Wednesday that it has taken two top awards in the Asia Pacific region. CeBIT.AU, a business tech conference in Australia, honored Splunk with its top industry prize, the CeBIT.AU ICT Excellence Award, along with the CeBIT.AU Business Award for Top Business Solution. What is more, NetworkWorld Asia, which is an enterprise IT magazine read by over 16,000 IT professionals, chose Splunk as "Best in Big Data Analytics", a category in its 2013 Information Management Awards.
Are these stocks a buy or sell? Let us help you decide.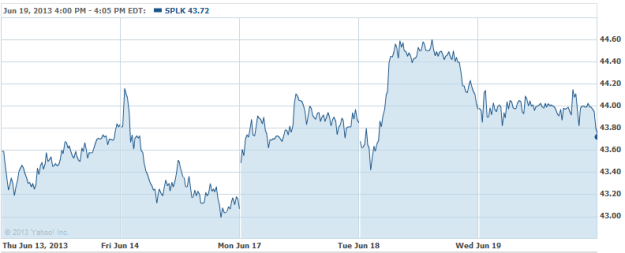 International Business Machines Corporation (NYSE: IBM): Closing price $201.94
IBM announced on Wednesday a new services center in the city of Groningen, Netherlands, that will create as many as 350 technical information tech roles in the next three years, allowing IBM to deliver an industry-leading range of innovative tech services to clients throughout that country. The center will offer IBM clients in The Benelux locally-based skills and technical expertise in the Dutch language, to foster innovation and adoption of new tech, and also provide direct proximity. The new center joins IBM's worldwide integrated capability network which supplies deep technical and industry expertise to a broad range of public and private sector clients.
Are these stocks a buy or sell? Let us help you decide. Check out our Stock Picker Newsletter now.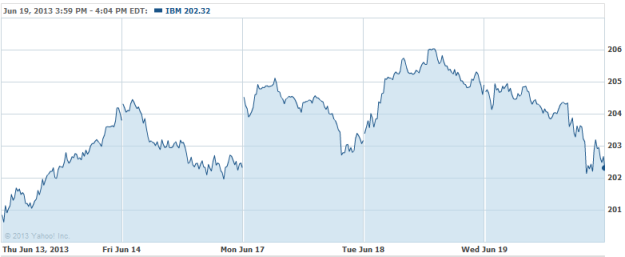 Investing Insights: Is Sony a Buy at These Prices?