4 Tech Stock Stories for Investor Download
Apple (NASDAQ:AAPL): Current price $448.77
Apple has now patented an iPhone without a home button, which is believed to be the anticipated cheaper version of the successful smartphone. According to the United States Patent & Trademark Office filing, the device will be made out of a "clear plastic body." The patent describes the product as "A portable device which has a rear facing camera assembly and a front facing display assembly that includes at least a protective cover layer, a display stack that includes a plurality of display components arranged in a plurality of interconnected layers, the display stack providing an imaging service, and a flat support chassis arranged to provide support for the display stack."
Washington Post Co. (NYSE:WPO): Current price $386.47
The Washington Post is the latest victim to have been hacked by Chinese hackers, adding to a list of United States news organizations that includes Bloomberg News and The Wall Street Journal, which said on Thursday that it too had been a victim of Chinese cyberattacks. Knowledgeable sources say that The Washington Post's computer systems were also attacked by Chinese hackers in 2012.
Are these stocks a buy or sell? Let us help you decide. Check out our Stock Picker Newsletter now.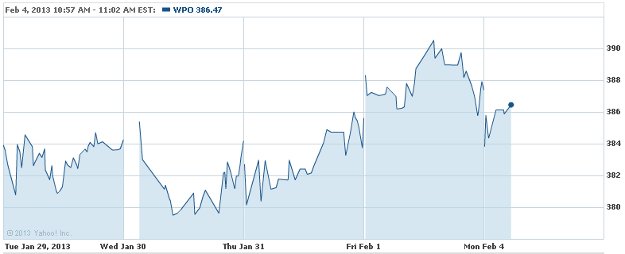 3M Company (NYSE:MMM): Current price $100.67
3M is highlighting the Many Uses of Post-its in $10 million campaign which spans online ads, TV commercials, the Post-it note website, and social media platforms, exhibiting creative uses of its iconic product.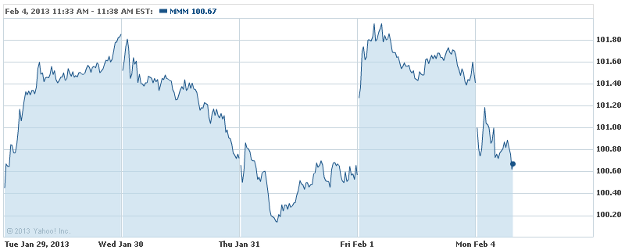 Research In Motion Limited (NASDAQ:BBRY): Current price $14.29
Research In Motion says that on Monday, February 4th, its new ticker symbols will take effect, trading as "BB" on the Toronto Stock Exchange and "BBRY" on the NASDAQ. However, the legal name of the firm is not yet changing and it will do business as BlackBerry until shareholders vote for the official change at its Annual General Meeting later in the year.
Don't Miss: Hello BlackBerry, Welcome to the Nasdaq!