4 Tech Stock Stories Gaining Attention on Monday
Google Inc. (NASDAQ:GOOG): Closing price $1010.73
Earlier in 2013, Gmail debuted quick-action buttons to permit users to act on inbox messages without having to open them beforehand. On Monday, Google is working on broadening support for the feature. For example, users who have ordered something on Seamless, may now rapidly rate and leave feedback on the seller by clicking a "review" button that shows up alongside the email subject line. OpenTable has also joined in, allowing users to edit any dinner reservations they have made directly from the inbox itself.

Youku Tudou Inc. (NYSE:YOKU): Closing price $26.75
Youku shares are up more that 3 percent Monday after analyst Fawne Jiang at Brean Capital upgraded the stock from Hold to Buy, predicting to investors that the company is poised to perform well next year. Jiang also said that Youku's ad sales could benefit from the Chinese economy improving, and that in 2014 the firm's profits could beat expectations, but its third and fourth quarter results might not be strong. The analyst put a $36-price target on the stock.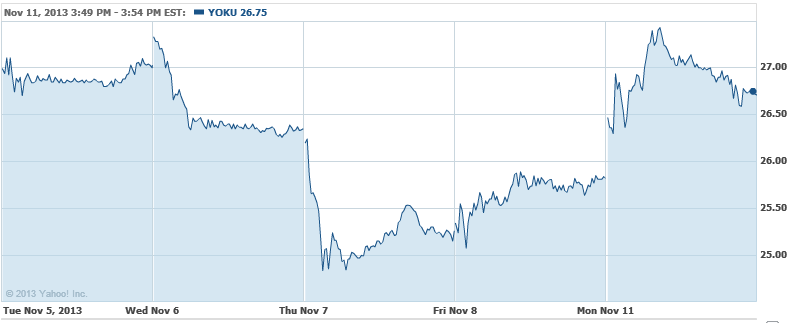 Apple Inc. (NASDAQ:AAPL): Closing price $519.05
On Monday, Carl Icahn revealed to CNBC that he had a "good conversation" with Apple Chief Executive Tim Cook, and that both believe that the firm's stock is still undervalued. Cook told Icahn that he is still examining his proposal to repurchase $150 billion worth of Apple shares. Icahn had a meeting with Cook in late September to talk about such a repurchase, but at that time Cook did not seem interested in a buyback of that size, Icahn told CNBC. Then in late October, Icahn placed added pressure on Cook by publishing an open letter on his new website called "Shareholder's Square Table."

DuPont Fabros Technology Inc. (NYSE: DFT): Closing price $23.02
DuPont Fabros announced Monday that it has appointed Jeffrey H. Foster as executive vice president and chief financial officer, replacing Mark Wetzel who resigned his position to pursue another opportunity. Foster came to DFT in July 2007, and has been its chief accounting officer since its initial public offering in October of 2007. He is a seasoned accounting and finance officer with close to 30 years of experience.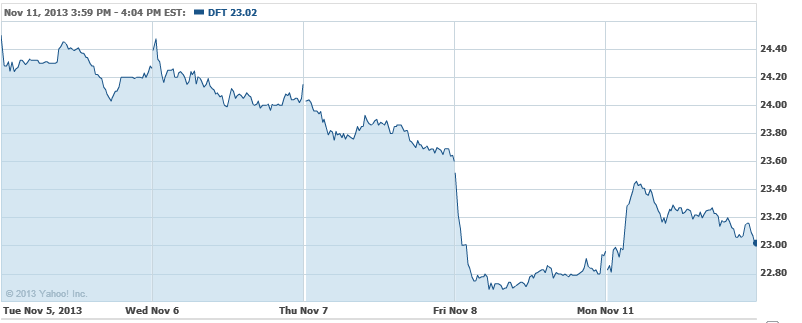 Don't Miss: Will Nokia's Lumia 1520 Smartphone Succeed at AT&T?