4 Tech Stock Stories Gaining Thursday Traction
Southwest Airlines Co. (NYSE:LUV): Closing price $18.45
Since the Federal Aviation Administration relaxed its rules involving electronic devices on flights, airlines are in a fever pitch to get the loosened regulations into place. Southwest Airlines is poised for holiday flight loads and has said that fliers on most flights have the option to choose to have Wi-Fi available from gate to gate. The Wi-Fi service costs $8 per day per device and provides connectivity at all times while onboard. The daily charge also covers Wi-Fi during stops and connections.

Apple Inc. (NASDAQ:AAPL): Closing price $521.01
A jury in San Jose federal court on Thursday awarded Apple $290.45 million in a damages retrial against Samsung Electronics (SSNLF.PK), closing the most recent battle in global patent litigation between the two mobile majors. Apple had sought $379.8 million, while Samsung argued that it should pay just $52.7 million.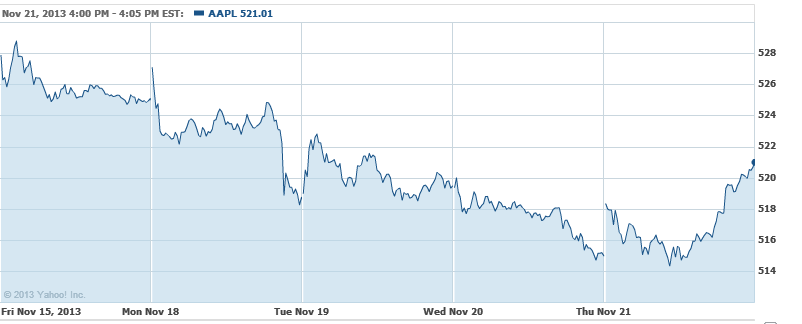 Google Inc. (NASDAQ:GOOG): Closing price $1033.89
Speaking Thursday at The Year Ahead: 2014, a conference in Chicago hosted by Bloomberg, Google Executive Chairman Eric Schmidt said that new technologies that help companies analyze huge amounts of digital information have the power to change to the insurance, health care and energy industries. The executive observed that "Insurance is the most obvious" industry "about to explode" with uses for big data. He went on to say that better cost controls and more efficient delivery of services are two ways in which data could transform industries.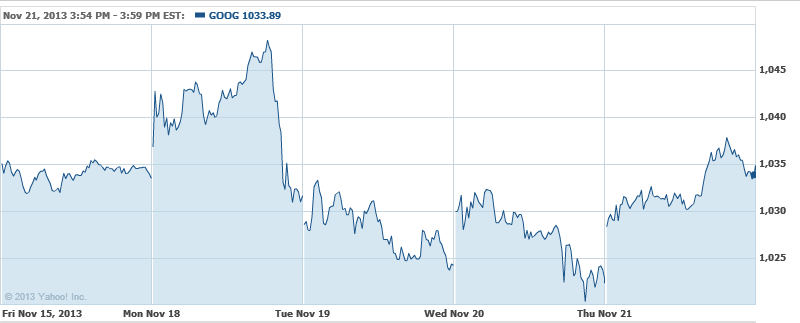 Yahoo Inc. (NASDAQ:YHOO): Closing price $36.31
Yahoo on Thursday announced the pricing of $1.25 billion aggregate principal amount of its 0 percent convertible senior notes due 2018. The offering was increased from the previously reported $1 billion aggregate principal amount of notes. Additionally, Yahoo has granted to the initial purchasers of the notes the option to buy up to an additional $187.5 million aggregate principal amount of notes, exercisable within a 30-day period, solely to cover any over-allotments. The notes will be offered and sold by the initial purchasers only to qualified institutional buyers, through Rule 144A under the Securities Act of 1933, as amended. The offering should close on or about November 26, subject to the usual closing conditions.

Don't Miss: Apple Counters Samsung's Request to Halt Damages Retrial.