4 Tech Stock Stories Kicking Off a Tumultuous Trading Week
Google Inc. (NASDAQ:GOOG): Closing price $874.90
According to Engadget, Google is prepping a new mobile service that compensates users if they permit their mobile behavior to be observed. It seems that the project, called internally "Mobile Meter," employs iOS and Android applications that intelligently monitor app usage and web browsing habits and then transmit the data back to Google. Google would not comment on what it considers "rumor and speculation," but Engadget's sources reported that the Mobile Meter program will be all voluntary. It will be required that participants give their consent (or opt in) prior to joining.

Apple Inc. (NASDAQ:AAPL): Closing price $496.04
The usually-reliable analyst Ming-Chi Kuo at KGI Securities says that Apple has a spate of new products in the works for next year. Kuo has summarized his forecasts for these products in a new research note, and has also reaffirmed some of his previous projections for products in Apple's pipeline for the rest of this autumn, says 9to5mac. The major 2014 Apple product reports that Kuo highlights surround MacBooks, iMacs, and iPads. Of perhaps the most interest, Kuo thinks Apple will debut a 12-inch Retina laptop, a sharper full-sized iPad, plus a more affordable iMac desktop computer.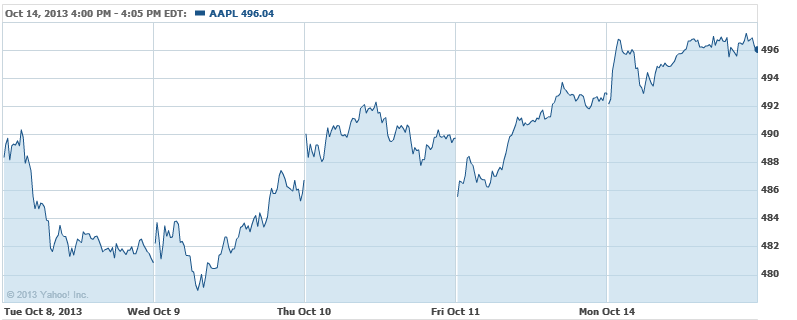 Emulex Corp. (NYSE:ELX): Closing price $7.81
Knowledgeable sources say that Emulex has held discussions with a few private equity companies, including Francisco Partners LP, Thoma Bravo LLC and Thomas H. Lee Partners LP in regards to selling itself, but a deal might not happen for the chip maker. The talks with the private equity firms have been continuing for the past few months, but have thus far not led to an offer that Emulex's board would accept, according to the persons, who added that some prospective buyers are still nervous over potential legal liabilities of Emulex, which has been sunk in a patent infringement lawsuit brought by its bigger rival Broadcom Corp.

Suntech Power Holdings Co., Ltd. (NYSE:STP): Closing price $1.35
The solar firm Suntech on Monday reported further developments with regards to Global Solar Fund assets in Brindisi, Italy. On September 23, an additional 5.3 megawatts of solar fields were seized and on October 4, another 1.9 were seized. As of October 9, all told, 47 sites with a total amount of generating capacity of 37.8 megawatts have been seized representing roughly 26.9 percent of GSF's total generating capacity. On September 30, the Court of Brindisi agreed to appoint judicial administrators for the 27 sites taken on September 19.

Don't Miss: Google's Terms of Services: Senator Markey Voices Concerns.