4 Tech Stock Stories Making a Commotion Today
Google Inc. (NASDAQ:GOOG): Closing price $1005.88
Google has acquired the French startup Flexycore for $23 million, according to L'Expansion. The firm provides optimization solutions applications, centering upon the smartphone market with a meaningful presence in the Android universe. The acquired team will be integrated into Google's Android team so as to enhance Android's user interface in the future as affirmed by a representative from Google France. This purchase marks the first publicly announced acquisition since Google bought Sparrow last year.

Yahoo Inc. (NASDAQ:YHOO): Closing price $33.94
Court filings are said to indicate that Chief Executive Marissa Mayer tried to slow the rollout of Yahoo!'s search arrangement with Microsoft Corp., and questioned its partner's commitment. On Monday, a United States judge ruled that Yahoo must adopt Microsoft's search tech in Taiwan and Hong Kong under their partnership, forged in 2010, so as to fight against Google's dominance in search advertising. Yahoo has been critical of the partnership in the past, and said it wants to hold back on switching to Microsoft tech in certain markets until Mayer has had a chance to discuss the partnership with Steve Ballmer's successor, said a court filing.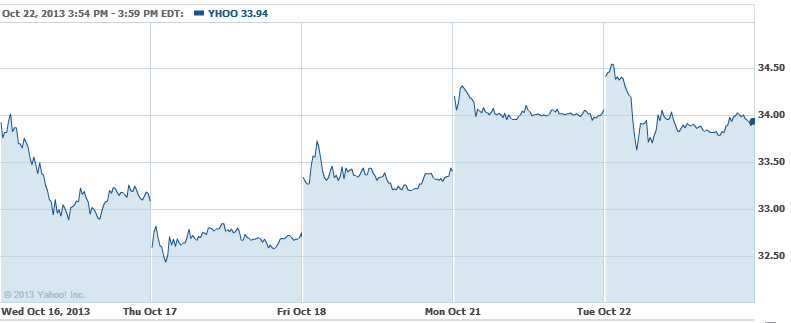 Apple Inc. (NASDAQ:AAPL): Closing price $519.45
Earlier on Tuesday, Apple debuted a spate of new products, among which include a new Macintosh Pro and two new iPads. One new iPad, iPad Air, will be 43 percent thinner, as the firm takes a page from its thinner and smaller devices MacBook Air and the iPad mini. Prices begin at $499. Apple also introduced a new iPad mini that features a retina display for a higher resolution screen, going for $399. Still, shares closed down 0.29 percent with some investors tweeting and remarking on blogs that they were "disappointed" or that the news amounted to "incremental innovation," and was without many surprises in the event.

Expedia Inc. (NASDAQ:EXPE): Closing price $48.92
On Tuesday, two online travel leaders, HomeAway Inc. and Expedia.com, announced an agreement meant to expand online travel accommodation options by surfacing HomeAway vacation rental properties via Expedia.com. The pilot is expected to launch early in 2014, and will include properties spanning the United States and Mexico, expanding upon the present relationship with BedandBreakfast.com, also operated by HomeAway.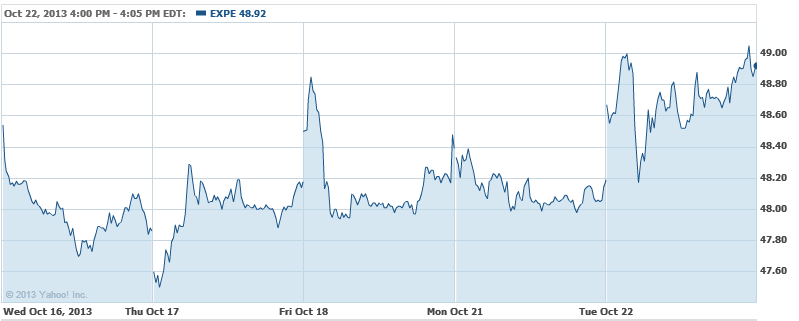 Don't Miss: Here's Why Mobile Startups Prefer Apple's iOS Over Google's Android.