4 Tech Stock Stories Making a Fuss On Thursday
Google (NASDAQ:GOOG): Closing price $877.00
The Financial Times reports that European Union antitrust regulators are apparently exploring allegations that Google employs anticompetitive practices to sell more of its Android mobile operating systems, and that an informal inquiry is in a "preliminary stage," in which the publication cites a leaked document. Back in April, a group of Google's competitors told EU antitrust regulators that Google utilizes its Android software as a 'Trojan Horse,' giving it away free and then exploiting  the resulting traffic. The group goes by FairSearch, and is supported by Microsoft Corporation, Expedia, Oracle and TripAdvisor, among others; the firms say that Google's free Android distribution is "predatory" as releasing it "below cost makes it  difficult for other providers" to compete.
Are these stocks a buy or sell? Let us help you decide. Check out our Stock Picker Newsletter now.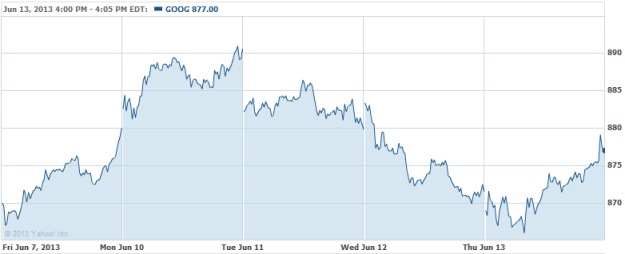 Symantec Corporation (NASDAQ:SYMC): Closing price $22.49
Inside sources to AllThingsD report that the security software firm Symantec might lay off as many as 1,700 employees as soon as Thursday. The job eliminations are a portion of a company-wide reorganization first announced in January, forming a part of a turnaround plan instituted by the company's new Chief Executive Steve Bennett, who came to the company 11 months ago. Bennett told Reuters in a January interview that Symantec has too many management layers and will be streamlined into 10 business units.
Are these stocks a buy or sell? Let us help you decide.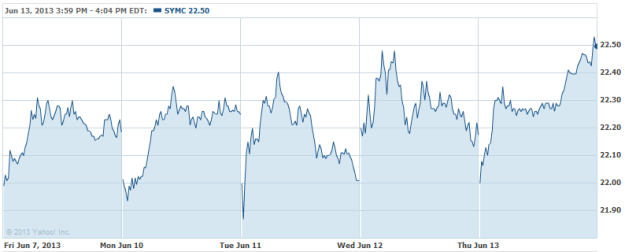 Apple (NASDAQ:AAPL): Closing price $435.96
It is said that Apple is ramping up to introduce its new low-cost iPhone in the near term, with key suppliers now reportedly shipping components, among which include 28-nanometer processors from Taiwan Semiconductor Manufacturing Company. Besides TSMC, Largan Precision is said to be supplying an 8-megapixel camera for the device, while Foxconn is reportedly providing the battery module and the majority of the inner frame, and Taiflex Scientific will develop the device's flexible circuit. The details emerge from a report this week by the Commercial Times, which was highlighted Thursday by Macotakara.
Are these stocks a buy or sell? Let us help you decide.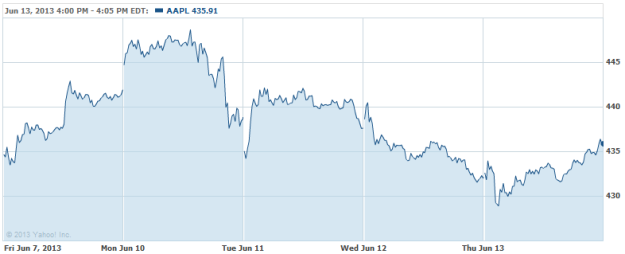 Pandora Media (NYSE:P): Closing price $15.23
Just after Pandora's controversial play in an attempt to avert higher publishing rates by buying a terrestrial radio station in South Dakota — so that it is eligible for the blanket license fee of 1.7 percent of advertising rate negotiated by the Radio Music Licensing Committee – BMI has ceased negotiations for publishing rates with the service, and has elected to bring suit in rate court, say sources. The latter said that BMI management understood that further negotiations with Pandora would not be helpful, considering what publishers are calling a dubious maneuver to obtain lower rates under the 4.1 percent of revenue that Pandora paid to publishers in 2013.
Are these stocks a buy or sell? Let us help you decide. Check out our Stock Picker Newsletter now.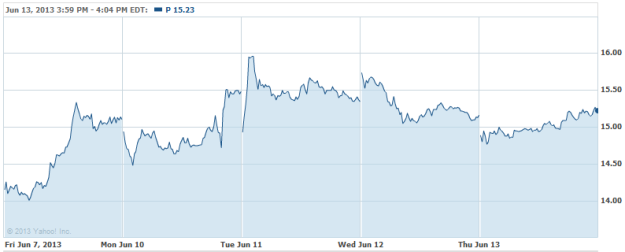 Don't Miss: Government to Apple: iBookstore Is a Failure.