4 Tech Stock Stories Making a Midweek Commotion
International Business Machines Corp. (NYSE:IBM): Current price $180.28
IBM has withdrawn from its court dispute with Amazon.com in regards to a $600 million cloud computing contract for the Central Intelligence Agency, attributing the action to the government's urgency to start work on the project. IBM abandoned its request for a stay of United States Court of Claims Judge Thomas Wheeler's October 8 ruling in favor of Amazon, subsequent to the Justice Department saying in court papers that a protracted delay in settling the contract would cause "harm to the United States" and create "significant challenges" for the Agency. Amazon brought a suit against the government in July after the Government Accountability Office sided with IBM and agreed that the CIA had not properly evaluated prices, and had waived a contract requirement only for Amazon.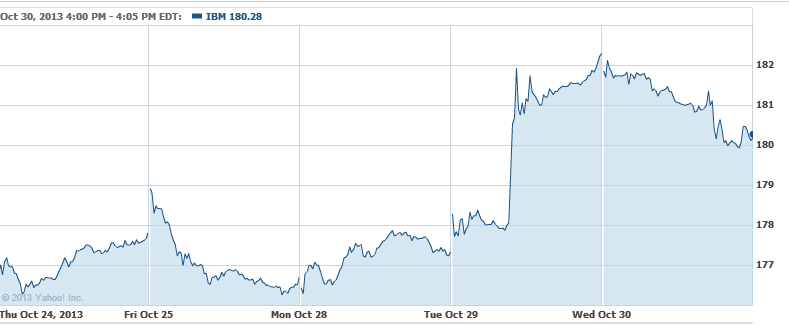 Google Inc. (NASDAQ:GOOG): Current price $1029.38
According to a Washington Post report on Wednesday, the National Security Agency has accessed communications links used by Google and Yahoo to move hefty amounts of email and other user data, among overseas data centers. However, it remained unclear as to how the NSA accessed the links. The report, which was based on secret NSA documents leaked by Edward Snowden, seems to indicate that the Agency has used weak restrictions on its overseas activities to take advantage of even major U.S. firms' data to a far greater extent than was previously realized.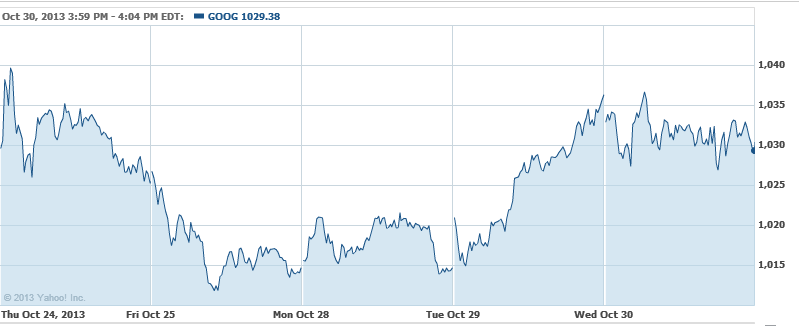 Splunk Inc. (NASDAQ:SPLK): Current price $62.83
On Wednesday, Splunk announced the next evolution of big data analytics with the general availability of Hunk, Splunk Analytics for Hadoop. Hunk is comprised of a full-featured, integrated analytics platform for Hadoop that allows everyone in an organization to interactively explore, analyze, and visualize historical data in Hadoop. The platform is built on patent-pending virtual index tech that supplies powerful, self-serve analytics that do not need specialized programming skill sets, fixed schemas, or expensive integrations.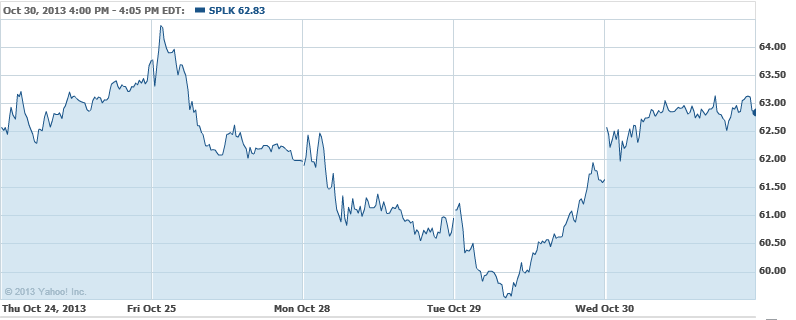 Apple Inc. (NASDAQ:AAPL): Current price $524.43
According to IDC, Apple relinquished market share in the tablet market to Samsung in the third quarter while the iPad maker's sales slid from the prior quarter. Apple was still the top tablet vendor on the planet, but its share dropped to 30 percent from 40, year-over-year. Samsung remained number two, with a 20 percent share, up from 12 percent in 2012.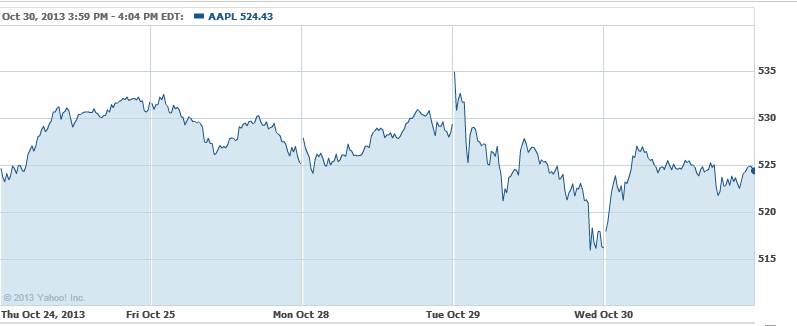 Don't Miss: Electronic Arts Hopes to Sell Golf Games Without Tiger Woods.