4 Tech Stock Stories Making a Midweek Commotion
Apple (NASDAQ:AAPL): Closing price $432.19
Apple is turning over a bit more control to its third-party developers, in the ad department. During its annual developers conference this week Apple debuted iAd Workbench, which is a tool that will permit application makers to more easily get involved in iOS ad campaigns, tweak who sees them, and more rapidly produce banner advertisements. With iAd Workbench, users may target who they wish, at a time they select, manually, automatically or both. When specific targeting criteria like age, device, gender, location and preferences are assigned to a campaign, iAd can identify find the correct audience.
Are these stocks a buy or sell? Let us help you decide.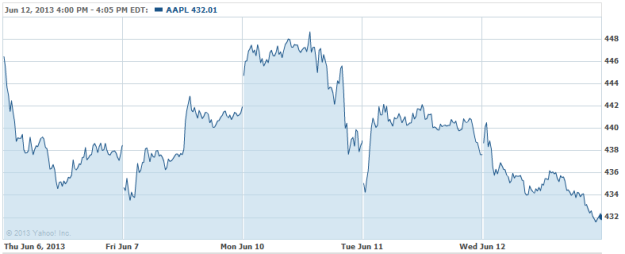 Nokia Corporation (NYSE:NOK): Closing price $3.49
John Paczkowski at AllThingsD reports that two years following its adoption of Microsoft's Windows Phone as its main smartphone platform, Nokia is bailing on Symbian, the mobile operating system it replaced. Sources relate that Nokia intends to wind down shipments of Symbian handsets this summer, and though it will continue to sell them in the emerging markets in which  demand for them still exists, that will only be until stock runs out. Symbian usage has been slumping sharply; in the first quarter of 2013, Nokia sold a mere 500,000 handsets running the OS.
Are these stocks a buy or sell? Let us help you decide.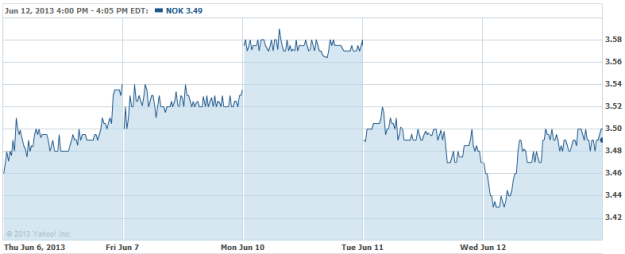 Texas Instruments  (NYSE:TXN): Closing price $34.79
This week during InfoComm, Texas Instruments DLP debuted new tech advancements which should bring seamless interactivity into reality for projection and display. DLP's multitouch tech prototype is being exhibited for the first time this week, and allows customers to make any surface into a fully interactive touch screen for multiple users. When combined with DLP's any-format-3D-compatibility, solid state illumination and high-contrast 1080p data projectors, this new tech will enable classrooms and boardrooms to develop powerful shared interactive experiences.
Are these stocks a buy or sell? Let us help you decide.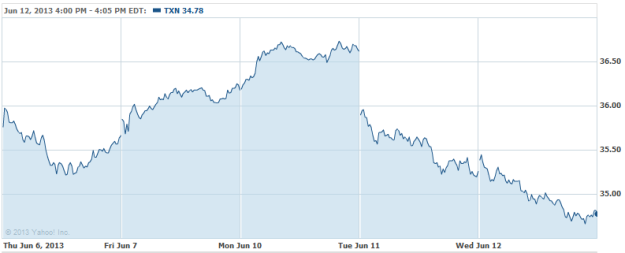 Qualcomm Incorporated (NASDAQ:QCOM): Closing price $61.11
Following reports that demand for Samsung's S4 had stalled, Deutsche Bank said that it ran channel checks for Qualcomm. Subsequent to the checks, Deutsche believes that Qualcomm's business continues to do well, and that the quarter is tracking at a minimum in-line with guidance. The firm maintains a Buy on the stock together with a price target of $78 .
Are these stocks a buy or sell? Let us help you decide. Check out our Stock Picker Newsletter now.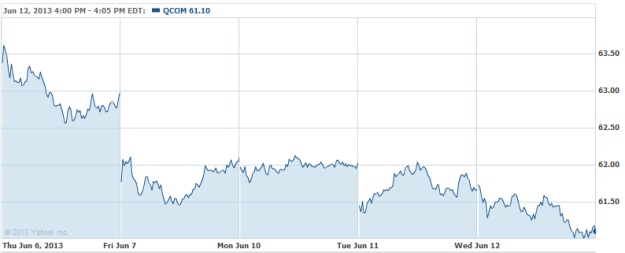 Don't Miss: Nokia's Symbian Will Officially Jump Off Burning Platform.