4 Tech Stock Stories Making Commotion on Thursday
Amazon.com Inc. (NASDAQ:AMZN): Closing price $332.21
Although Amazon was hurrying to complete and release a set-top box in time for the shopping season that was created to compete directly with the Apple TV and Roku, it appears that the company will delay a debut of the product possibly beyond the season, according to The Verge. Sources report that the box is based on a fork of Android, the same as the company's Kindle Fire tablets, and that Amazon was going to permit third party applications alongside its own services.

Hewlett-Packard Co. (NYSE:HPQ): Closing price $23.89
Knowledgeable sources say that the company is searching out buyers for some of its mobile-computing patents, while Chief Executive Meg Whitman endeavors to reinforce the firm's financial position. The computer maker has approached potential buyers regarding the portfolio of patents, according to the people, who added that the intellectual property includes those related to WebOS, the smartphone and tablet-computer operating system that Hewlett-Packard acquired through its 2010 purchase of Palm Inc., which it subsequently wrote down.

NetSuite Inc. (NYSE:N): Closing price $109.85
The industry's provider of cloud-based financials/ERP and omnichannel commerce software suites NetSuite, announced Thursday that it will acquire TribeHR, which provides Human Capital Management solutions, to form the first integrated cloud ERP and HCM software suite for small and mid-sized businesses. The proposed purchase would create a single cloud solution for modern SMBs, having the ERP power to run their core business operations along with a rich, social HR software solution to manage employees. The proposed transaction is subject to the usual closing conditions, but the terms were not disclosed.
Google Inc. (NASDAQ:GOOG): Closing price $1025.55
This week, Google introduced a new professional mapping tool, Maps Engine Pro, meant to aid small businesses in organizing location-related information. Product manager Heather Folsom says that the tool is intended for any small business that wants to figure out where clients and sales leads are, or where to place new warehouses or storefronts, remarking that, "You're probably working with a spreadsheet, and it's hard to get a sense of how things relate in a real world sense."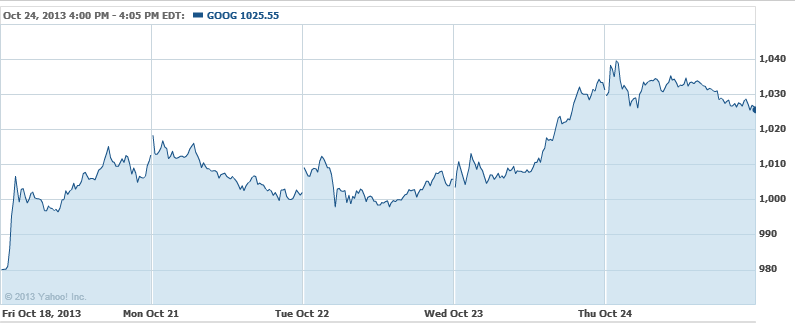 Don't Miss: Microsoft Exec on Free iWork Apps: Apple Is Playing 'Catch Up'.