4 Tech Stock Stories Making Headlines On Monday
Yahoo! (NASDAQ:YHOO): Closing price $26.54
Yahoo! has announced its purchase of the enterprise conference call service provider, Rondee, which is based in Palo Alto, and was founded in 2006. Following the acquisition, Rondee's staff will be integrated into Yahoo's Small Business division. The service will shut down, and it will transfer its users to InstantConference, another service provider by the end of nest month. However, current users may still log in and create new conference calls until July 12.  Financials of the transaction were not divulged.
Are these stocks a buy or sell? Let us help you decide.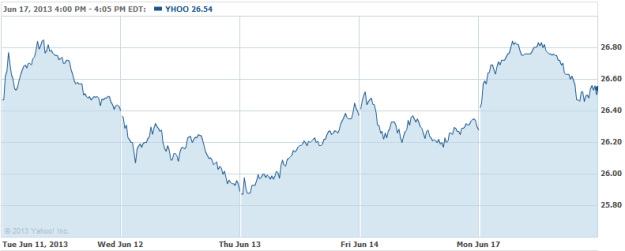 Apple (NASDAQ:AAPL): Closing price $432.00
In a Monday statement, Apple says that it received between 4,000 and 5,000 requests from United States law enforcement agencies for customer data related to 9,000 to 10,000 accounts or devices from December 2012 to the end of May. The figures are about two times less the 18,000 to 19,000 accounts about which Facebook was asked, and three times shy of the 31,000 to 32,000 accounts that Microsoft  Corporation was obliged to look up for the government in the second  half of last year. The amount that Apple disclosed was a lump sum of requests arising from criminal  investigations and national security matters.
Are these stocks a buy or sell? Let us help you decide.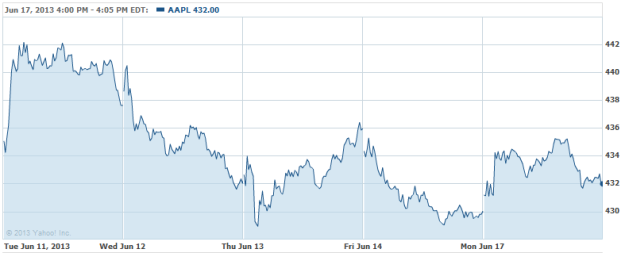 Microsoft Corporation (NASDAQ:MSFT): Closing price $35.00
Microsoft's Azure General Manager Steven Martin said on Friday that big enterprises are becoming more comfortable with Windows Azure, which represents his company's rival to Amazon's cloud computing service. The executive said also that over half of Fortune 500 firms are now using Windows Azure, which allows customers to rent access to servers, storage, and other services over the Internet. At this time, Microsoft has some 250,000 Azure customers, a number that has more than doubled since June of 2012, and is enrolling 1,000 new ones per day. Microsoft believes that enterprises will always want to run clouds in their own data centers, known as "private cloud." Microsoft sells the software for this, but Amazon does not.
Are these stocks a buy or sell? Let us help you decide.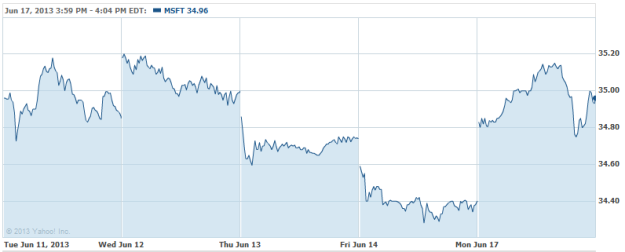 Facebook (NASDAQ:FB): Closing price $24.02
On Monday, the whistleblower Edward Snowden said that firms like Google and Facebook have an "ethical obligation" to not cooperate with the National Security Agency's data-gathering program, contending that the tech behemoths possess sufficient clout to resist the agency. Snowden is a former government contractor who leaked classified NSA documents connected with a secret data-gathering program, and participated in a live chat through the Guardian newspaper, which first broke the story regarding the spying scandal. Snowden pronounced the denials by Google and Facebook about their own involvements in the program "misleading," but also said that the scandal has shed more light on what was going on, commenting that "As a result of these disclosures and the clout of these companies, we're finally beginning to see more transparency and better details about these programs for the first time since their inception."
Are these stocks a buy or sell? Let us help you decide. Check out our Stock Picker Newsletter now.

Don't Miss: Source: Microsoft on Spending Spree For Windows Phone Apps.