4 Tech Stock Stories Ready for a Midweek Download
Google Inc. (NASDAQ:GOOG): Closing price $898
Beginning on November 11, Google will introduce "shared endorsements" that post the names of Google+ social networkers and Gmail users and perhaps their photographs to all sorts of products and services they have shared using Google's +1 button, which is not dissimilar to Facebook's "like" button. These testimonials could appear on Google Maps as restaurant reviews or together with results within Google's search engine. It will be necessary for Google+ users who permit their +1 recommendations to be seen publicly to alter their settings to keep their profile from being used in virtual advertisements.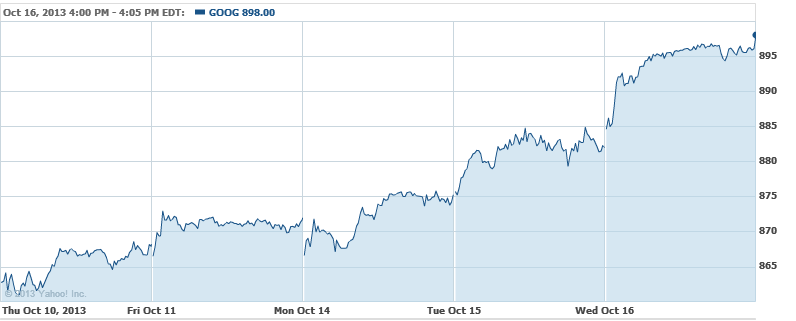 Verizon Communications Inc. (NYSE:VZ): Closing price $47.25
Verizon is at last taking advantage of the AWS spectrum it purchased in a deal with cable providers. According to GigaOM, the carrier has discretely tossed the switch and enabled LTE signals on the 2.1GHz AWS band, at least in New York City. Because of the ramped-up network, one user carrying a spectrum analyzer saw download speeds that topped out at 80Mbps on an iPhone 5S. However, such data transfer rates will not likely stay at that level once more smartphones and tablets jump onto the AWS band, reports The Verge.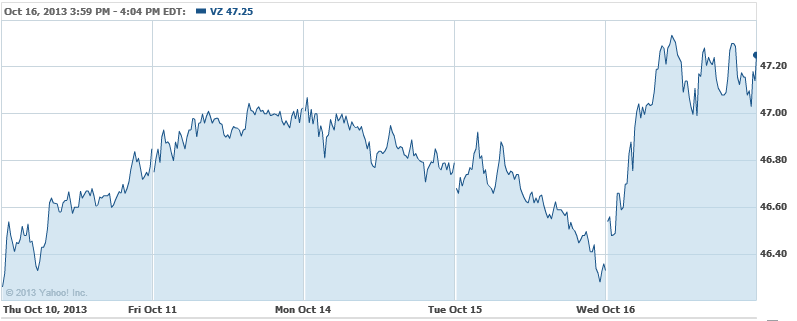 Apple Inc. (NASDAQ:AAPL): Closing price $501.40
Apple shares closed up 0.49 percent Wednesday, at $501.11, after a Buy rating was reiterated and the price target raised from $560 to $580 at Canaccord Genuity. Analyst Michael Walkley wrote in a note late Tuesday that "Our global handset sell-through survey work indicates a significantly higher sell-through mix of iPhone 5s versus 5c that should benefit near-term [average selling prices] and margins."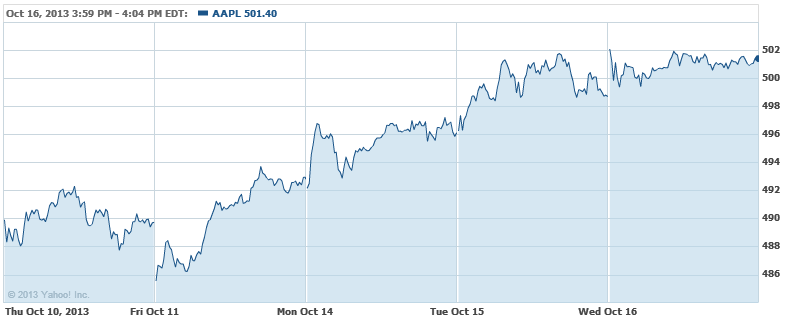 First Solar Inc. (NASDAQ:FSLR): Closing price $45.76
First Solar announced Wednesday that it reached an agreement to build a 250-megawatt solar power plant in Riverside County, California, for a subsidiary of NextEra Energy Resources LLC. The McCoy Solar Energy Project will be located on about 2,300 acres of primarily public land provided by the Bureau of Land Management, about some 13 miles northwest of Blythe, California. Through the terms, First Solar will provide engineering, procurement, and construction services, employing First Solar's cadmium telluride photovoltaic thin-film modules.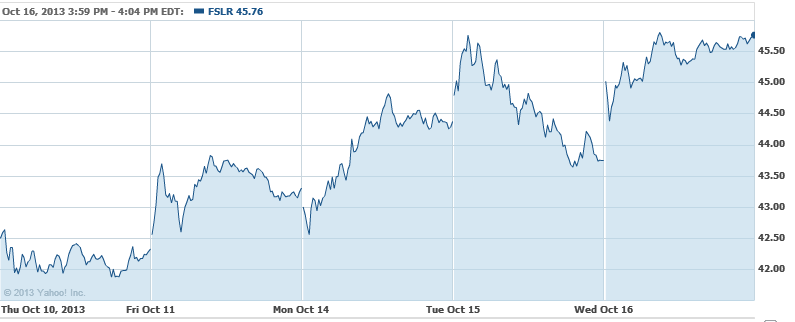 Investing Insights: Can Apple Benefit from a New Big Hire?