4 Tech Stock Stories Ready for a Midweek Scan
Google Inc. (NASDAQ:GOOG): Closing price $1023.31
The Verge is reporting that the Google Wallet Card is officially available. The prepaid debit card allows Google Wallet users to make payments with their Wallet balance at ATMs, banks, or anyplace that accepts MasterCard Debit. Beginning Wednesday, cards may be requested, and Google says that they should arrive within 10 to 12 days. Shipping is without charge and there are no activation fees for the card.

Apple Inc. (NASDAQ:AAPL): Closing price $515.18
In a closing statement in federal court in Los Angeles on Wednesday, Apple attorney Mark Scarsi said that the patent claims of 70-year-old electrical engineer Richard L. Ditzik, who claims he invented the smartphone, do not add up. The case now goes to a jury to rule whether Apple is liable for infringement. Scarsi remarked that Ditzik's "invention was using your computer as your cell phone. That's not an iPhone." However, Ditzik's NetAirus Technologies LLC alleged that Apple infringes a patent for a handheld device that combines computer and wireless communications functions over both a Wi-Fi and a cellular network. The damages he can win are limited to sales of Apple's iPhone 4 during the past 13 months.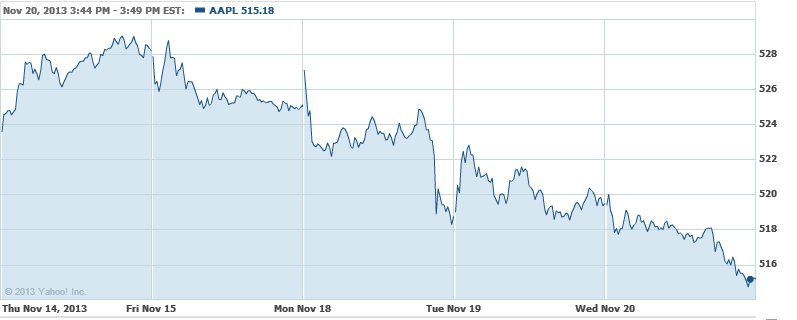 Vodafone Group PLC (NASDAQ:VOD): Closing price $36.32
According to CEO Vittorio Colao, Vodafone is open to maintaining network spending above its traditional levels once its two-year booster program has ended, should it need to respond to customer demand and competitor plays. Vodafone said in November that it would spend an extra 7 billion pounds ($11.3 billion) on its network during the next two years to place it in prime position for when the economy recovers. The U.K. group typically spends some 6 billion pounds per year on its network, but Colao told a Morgan Stanley conference in Barcelona that he could keep spending higher or cut it depending upon the manner in which his rivals responded

Qualcomm Inc. (NASDAQ:QCOM): Closing price $71.03
The No. 1 maker of chips for smartphones intends to return around 75 percent of free cash flow to investors in dividends and repurchases, Chief Executive Paul Jacobs said at a company event in New York. He went on to add that his company wants to bolster dividend payments to shareholders at a quicker pace than earnings are increasing. Earlier in November, Qualcomm projected sales growth of approximately 8 percent for fiscal 2014, following average gains of 31 percent during the prior three years.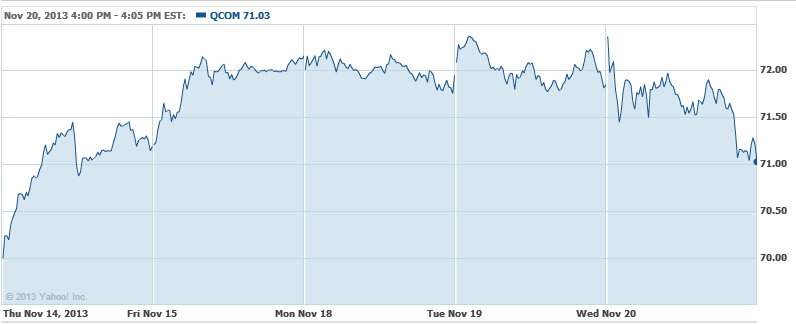 Don't Miss: Cloud Service Competition: IBM Attacks Amazon.