4 Tech Stock Stories Ready for a Monday Download
Amazon.com Inc. (NASDAQ:AMZN): Closing price $366.18
Amazon.com's Amazon Web Services has unveiled a new virtual desktop infrastructure on Amazon's cloud, WorkSpaces. The subscription price is between $35 and $60 per month per user, and is contingent upon the amount of computing power and storage the user needs. A license for Microsoft Office and an antivirus software would cost an additional $15 a month per user.  The primary target of Amazon WorkSpaces is to allow desktop computing to become available to all mobile devices. The service costs far less versus to the amount that firms would have to face to run their own virtualization servers.

Google Inc. (NASDAQ:GOOG): Closing price $1031.43
In an agreement announced Monday morning, Google will shell out $17 million to resolve allegations by 37 states and the District of Colombia that it secretly monitored Web users by placing special digital files on the Web browsers of their smartphones. The accord closes out an inquiry lasting nearly two years by the states into accusations that Google bypassed the privacy settings of customers using Apple Inc's Safari Web browser, by placing "cookies" into the browser. Although the Safari Web browser utilized on iPhones and iPads automatically blocks third-party cookies, Google was said to have modified the computer code of its cookies and thus could get around the blocks between June 2011 and February 2012, said the states' allegations.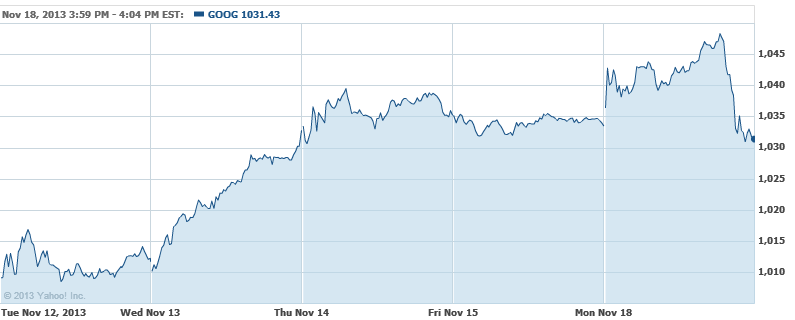 Qualcomm Inc. (NASDAQ: QCOM): Closing price $71.82
On Monday, Qualcomm said that its wholly-owned subsidiary, Qualcomm Connected Experiences Inc., will have its Qualcomm Toq smartwatch available to consumers on Cyber Monday, December 2. Toq is compatible with Android smartphones and sports proprietary Qualcomm MEMS Technologies, Inc.'s Qualcomm Mirasol display tech, providing an always-on experience with several days of battery life and visibility even in bright sunlight. Toq prices begin at $349.99 and will be available via toq.qualcomm.com.

ReneSola Ltd. (NYSE: SOL): Closing price $4.66
The provider of solar photovoltaic products announced that it will deliver over 178,000 PV modules, which will be employed in a 53.5-megawatt project being created by the solar PV project developer, OCI Solar Power. The modules will be deployed in a project called Alamo II in San Antonio, and another upcoming Texas development located about two hours west of San Antonio. The multi-stage project will amount to 400 megawatts and provide power to CPS Energy, the municipal utility for the City of San Antonio, upon its completion in 2016. A portion of the large-scale solar project will include ReneSola's 300W high-efficiency polycrystalline modules.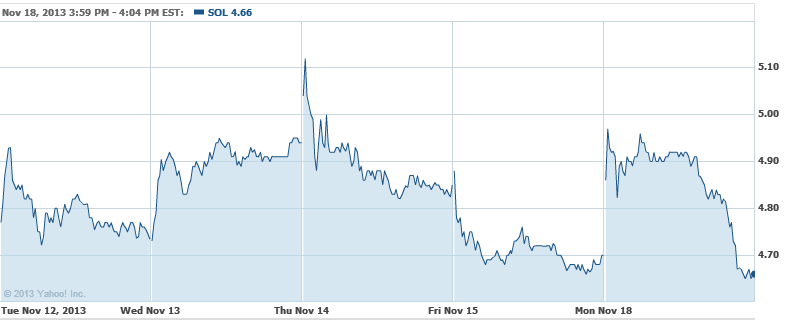 Don't Miss: What Is With Google's New Retail Snow Globe?