4 Tech Stock Stories Ready for a Weekend Download
Apple Inc. (NASDAQ:AAPL): Closing price $483.03
RadioShack and Wal-Mart are slashing their prices for Apple's iPhone 5C to under $50, with the help of gift cards. Both stores are reducing prices on the iPhone, which goes for $99 from Apple with a two-year wireless contract or $549 without one. From Saturday, RadioShack customers purchasing the iPhone 5C in-store will receive a $50 gift card that may be used towards their $99 iPhone 5C purchase, according to a spokesman for the company to MarketWatch. That offer ends November 2.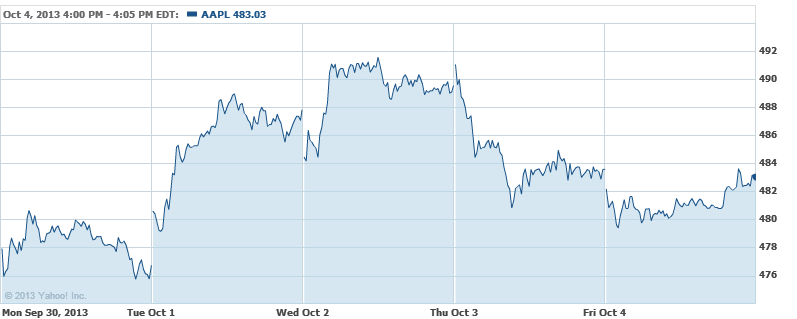 BlackBerry Ltd. (NASDAQ:BBRY): Closing price $7.68
BlackBerry reports that its most recent smartphone will appear in Canada later in October, but without the support of Rogers Communications, one of that country's biggest carriers. The smartphone maker says that Rogers will not stock the new BlackBerry Z30, which is a touch-screen model like in size to a Samsung Galaxy 4 when it debuts on October 15 at certain Canadian retailers. However, BlackBerry says that the Z30 will be stocked by other Canadian carriers, such as Bell and Telus, along with the retailers Best Buy and Future Shop. Prices will be set by the  retailers.

Baidu Inc. (NASDAQ:BIDU): Closing price $158.95
The number-one search engine in China announced Friday that its free antivirus product, Baidu Antivirus, has won VB100 certification from Virus Bulletin only 7 months following its intro in March. To be awarded the prestigious VB100 award, an antivirus product must be able to detect all malware samples found recently "in the wild" by the WildList Organization and also generate no false positives when scanning a large set of clean samples. All testing is conducted using the product's default settings and re-testing is not permitted.
Telecom Italia S.p.A. (NYSE:TI): Closing price $8.59
Telecom Italia announced that it has named the insider Marco Patuano as chief executive, after the long-standing Executive Chairman Franco Bernabe stepped down folloing a strategy clash with core shareholders, allowing possible asset sales. Patuano began his career in Telecom Italia subsequent to graduation at Milan's Bocconi University in 1990, and is to create a new business plan that could include sales at the debt-laden former monopoly phone company.

Don't Miss: Security Researchers Outwit Apple's Find My iPhone Feature.