4 Tech Stock Stories Ready for Your Friday Update
Microsoft Corp. (NASDAQ:MSFT): Closing price $37.83
The Selection must be getting closer. A knowledgeable source says that Microsoft's board will meet on Monday to trim a list of chief executive candidates, with an eye to form a short list containing three to five names. Directors want to have a choice as early as December to replace Chief Executive Steve Ballmer, and intend to interview final candidates during next several weeks, according to the person.
A document that was prepared by the board for the CEO search describes the ideal candidate as one who holds an "extensive track record in managing complex, global organizations within a fast-paced and highly competitive market sector; track record of delivering top and bottom line results. Proven ability to lead a multi-billion dollar organization and large employee base," said people who have knowledge of the document.
Google Inc. (NASDAQ:GOOG): Closing price $1033.63
The Street reports that Google Play Music is now on Apple's iOS operating system and is immediately available for download. Google Play Music will offer a standard service, and All Access options, which permits users to save music to the cloud and stream songs to an array of devices. According to the app description in iTunes, "With both All Access and the standard service, the Google Play Music app lets you listen to your music collection anywhere. All your music is stored online, so no need to worry about syncing, storage space, or offline playback. You can listen across any device and on the web, seamlessly."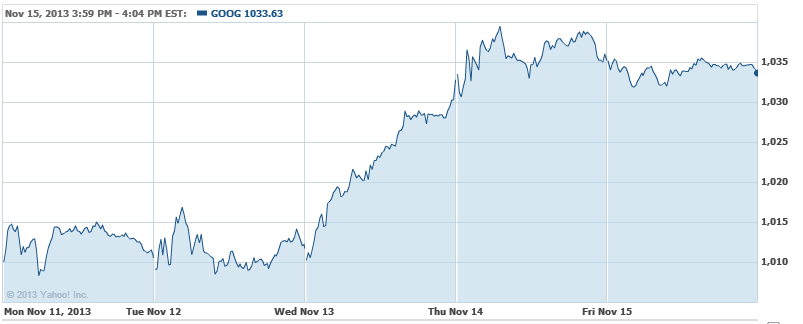 Molex Inc. (NASDAQ:MOLX): Closing price $38.62
The worldwide electronic components firm on Friday announced that at an annual stockholders' meeting, Molex stockholders okayed the previously reported definitive agreement to be purchased by the privately-held Koch Industries, Inc., for $38.50 per share in cash. The approximate equity value of the transaction comes to $7.2 billion. Though the terms, Koch Industries will purchase all of Molex's outstanding shares, including the Common Stock the Class A Common Stock and the Class B Common Stock.

Textura Corp. (NYSE: TXTR): Closing price $33.43
Textura announced Friday that it will acquire LATISTA, which provides mobile-enabled solutions for construction project collaboration, at a cash consideration of $35 million. The transaction should close on or about December 2.

Don't Miss: Here's the New Stuff Falling from Amazon's Cloud.