4 Tech Stock Stories Ready for Your Midweek Update
Apple Inc. (NASDAQ:AAPL): Current price $520.15
Apple now insists that Samsung Electronics pay it $380 million for copying key iPhone and iPad features. On Wednesday, an Apple attorney made the demand during opening statements of a Silicon Valley patent trial. A prior jury already decided that 26 Samsung products copied Apple's scrolling function, iPhone design, along with other features. That jury directed Samsung to pay Apple $1.05 billion, but a judge ruled that the jury miscalculated damages for 13 of those products and threw out $400 million of the verdict, and ordered a new trial, which began on Tuesday with jury selection. This jury is charged only with deciding a damage amount.

Avis Budget Group Inc. (NASDAQ:CAR): Closing price $33.82
Avis Budget's Avis Car Rental division has joined its express rental service "Avis Preferred" with Google's most recent mobile application, Google Wallet. The firm was the first in the vehicle rental industry to adapt to the recent tech era in which businesses are exploring the online and mobile portals so as to increase sales. Avis was the first car rental entity to adopt mobile applications last year when it debuted mobile apps on all four platforms, including BlackBerry, Android, iPhone, and the Microsoft Windows Phone.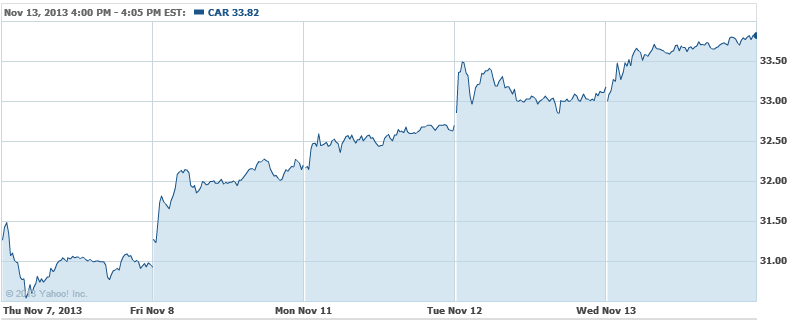 Amaz0n.com Inc. (NASDAQ:AMZN): Closing price $355.57
In appears that instead of buying servers, a number of businesses turn to Amazon's cloud computing service to run their operations. Now, the same concept might apply to personal computers. On Wednesday, Amazon's Web services unit announced what it has named Amazon WorkSpaces, which is like deploying virtual Windows PCs on Amazon servers. In practical terms, a user could access Windows-based applications from several kinds of devices, including Android or Amazon Kindle Fire tablets, Apple Macs or iPads, Google Chromebooks, or conventional laptops.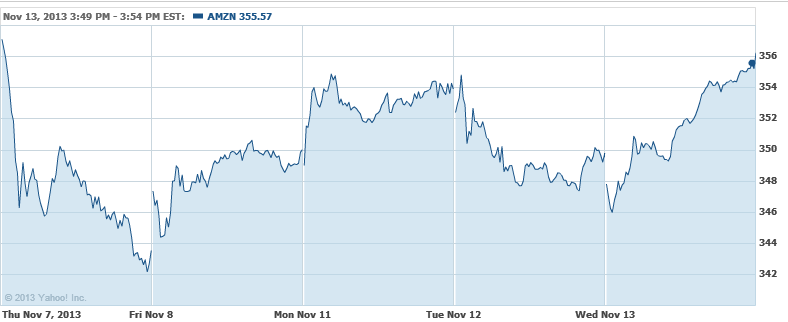 iGO Inc. (NASDAQ: IGOI): Closing price $2.44
On Wednesday, iGO announced that it will voluntarily delist its common stock, par value 10 cents per share, with the associated Series H Junior Participating Preferred Stock Purchase Rights, from the NASDAQ Capital Market. The firm will file a Form 25 with the Securities and Exchange Commission on or about November 22 to begin the NASDAQ delisting process, on which date it anticipates trading in its common stock with associated purchase rights, or NASDAQ will be suspended. Thus, iGO expects that November 21 will be the last day that the common stock will trade on NASDAQ. It is expected that the delisting of stock, with associated purchase rights, will become effective about ten days thereafter. Shares closed down 12.86 percent Wednesday.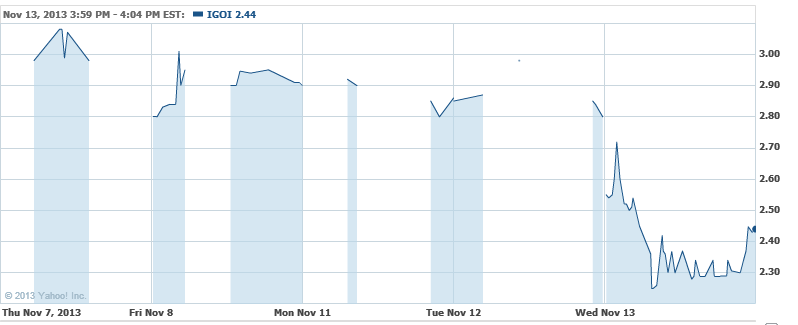 Don't Miss: Apple and GlobalFoundries: Chipping Away at the Chip Rumors.