4 Tech Stock Stories Ready for Your Thursday Download
Google Inc. (NASDAQ:GOOG): Closing price $1034.94
On Thursday, Google saw a long-running lawsuit by authors — who accused the Internet search company of digitally copying millions of books for an online library without permission — get tossed out by United States Circuit Judge Denny Chin in Manhattan. The judge accepted the firm's contention that its scanning of over 20 million books, and making "snippets" of text available online, did indeed constitute "fair use" under  United States copyright law. If the ruling perseveres against an expected appeal, it would allow Google a continued expansion of the library, which it says assists readers in finding books they might not otherwise get hold.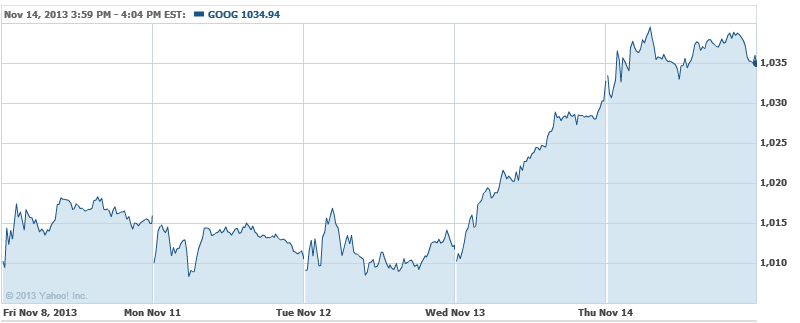 Apple Inc. (NASDAQ:AAPL): Closing price $528.17
Apple released a new update to iOS 7 Thursday that offers bug fixes and other improvements. The update, iOS 7.0.4, specifically fixes a problem that made FaceTime calls fail for certain users. Apple does not otherwise describe what the update includes, but it could be that the company is trying to mend some of the small glitches that wound up in iOS 7 without specifically acknowledging their existence. The update is currently available for iPhones, iPads, and iPod touches.

Amazon.com Inc. (NASDAQ:AMZN): Closing price $367.40
Tableau Software has announced an expansion in its collaboration with Amazon Web Services, with official support for Tableau Server running on the AWS cloud platform, linking with Amazon Relational Database Service along with a new Tableau integrated data connector to Amazon Redshift. Vice President Dan Jewett of Product Management at Tableau Software remarked that, "We are thrilled to extend our work with AWS and support the growing demand to see and understand data."

Baidu Inc. (NASDAQ:BIDU): Closing price $159
It would appear that the days of pirating work without penalty in China may be over. A newly-brought lawsuit implies that the country might have to get real about enforcing its copyright laws. A group of companies there, including Sohu, Youku Tudou, and Tencent's v.qq.com, have partnered on a $48.9 million lawsuit against Baidu, which is currently the dominant search engine in China. The plaintiffs contend that Baidu feeds content into its own web and mobile video services, including Baidu Yingyin, Baidu Video App, and Baidu TV Stick. Chinese online video companies now say that new business is threatened by piracy.

Don't Miss: Rumor: Apple's iWatch Design Different for Men and Women.