4 Tech Stock Stories Setting Off Thursday Chatter
Google (NASDAQ:GOOG): Closing price $877.07
Google has sued the Internal Revenue Service to obtain an $83.5-million refund, contending that it was improperly refused a deduction for a 2004 stock transaction with America Online. The complaint filed in United States Tax Court alleges that the IRS was wrong in disallowing a $238.6 million deduction claimed for the difference between the price that AOL paid to exercise a warrant for Google stock, and the value of the shares. The search engine behemoth said in the statement, "Google's actual cost for issuing the AOL warrant was $238,667,835, which equaled the spread between the $21,642,985 it received from AOL to exercise the AOL warrant and $260 million in value" of the stock.
Are these stocks a buy or sell? Let us help you decide.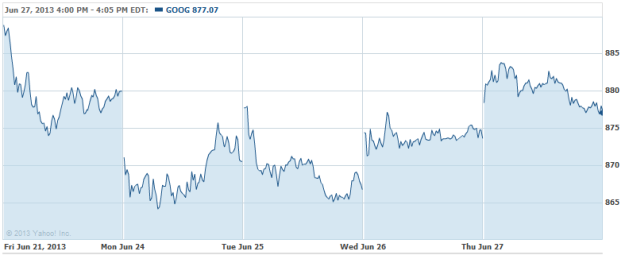 Apple (NASDAQ:AAPL): Closing price &393.78
Shares closed down more than 1 percent, after going over and under their Wednesday close all session. Analysts at Susquehanna cut their price target on Thursday from $480 to $440′ with Chris Caso writing that the change is to "reflect our latest production checks, which indicate continuing mix challenges, and that current production won't allow the new iPhones to be released before September." To make matters worse, Apple's expectations of adding the Galaxy S4 to its patent case against Samsung went awry when Magistrate Judge Paul Grewal of the United States District Court in San Jose ruled that permitting it would place Samsung under "undue pressure," according to CNET.
Are these stocks a buy or sell? Let us help you decide.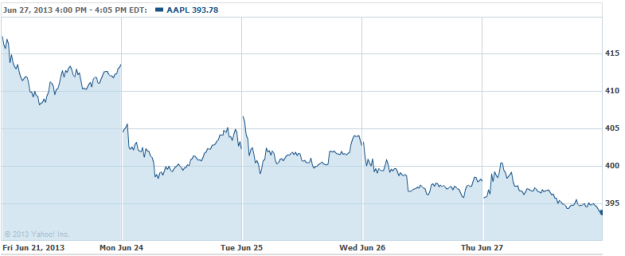 Splunk (NASDAQ:SPLK): Closing price $47.01
The software platform for real-time operational intelligence, announced Thursday the beta version of Hunk, Splunk Analytics for Hadoop. Hunk (beta) is a new software product from Splunk that joins together exploration, analysis and visualization of data in Hadoop. Based upon Splunk's years of experience with big data analytics tech deployed at thousands of customers, Hunk features dramatic improvements in the speed and simplicity of interacting with, and analyzing data in Hadoop without costly integrations, programming, or forced data migrations.
Are these stocks a buy or sell? Let us help you decide.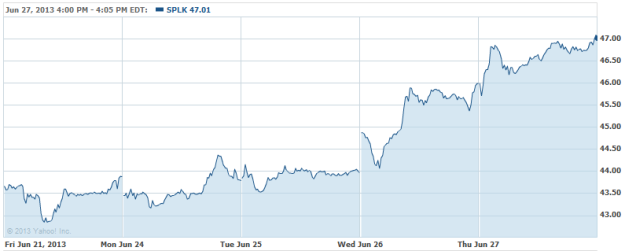 Facebook (NASDAQ:FB): Closing price $24.66
The Facebook Director of Advertising Products Gokul Rajaram has been recruited by Square in a significant feat for the young online payments firm. Rajaram begins work at the company next week as lead product developer, managing Square Register, which is the firm's point-of-sale product for retailers, according to Square on Thursday. The product enables retailers to employ an Apple iPad computer tablet as a cash register. Square also said that Rajaram will work on other products.
Are these stocks a buy or sell? Let us help you decide. Check out our Stock Picker Newsletter now.