4 Tech Stock Stories to Close The First Half of the Trading Year
Nokia Corporation (NYSE:NOK): Current price $3.74
According to Digitimes, Nokia might introduce its new Lumia 1020 smartphone in New York next month, and that the device features a 41-megapixel camera. The firm also intends to debut entry-level and mid-range Lumia smartphones. The Taiwan-based original equipment manufacturing firm Compal Communications has received orders for one model, and will start shipments in the third quarter. This marks the first time that Compal has cooperated with Nokia on smartphone products which adopt the Windows Phone 8 platform.
Are these stocks a buy or sell? Let us help you decide.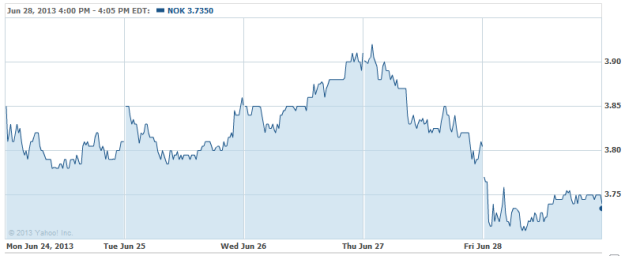 Apple (NASDAQ:AAPL): Current price $396.53
Analyst Andy Hargreaves at Pacific Crest Securities says in a research note on Friday that, "A late-September launch of an iPhone 5S and a redesigned iPhone 5″ are among key assumptions that current discussions are about. Hargreaves also predicts the intro of a new 9.7-inch iPad around the same time, and anticipates a November launch for a new iPad Mini Retina. The analyst calculates some of his sales views on an iPhone intro date of September 20th, but says that Apple "could launch its new iPhones earlier than we currently estimate."
Are these stocks a buy or sell? Let us help you decide.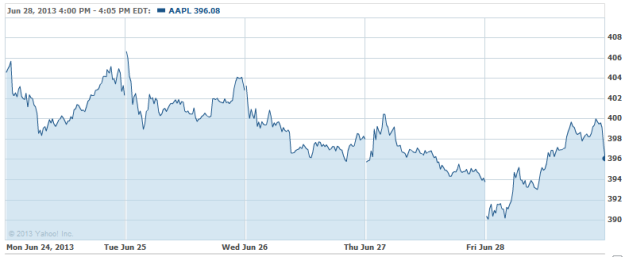 Suntech Power Holdings (NYSE:STP): Current price $1.03
On Friday, Suntech said that it has reached an accord with holders of a majority of the 3 percent Convertible Senior Notes for a new forbearance arrangement that sets forth the next phases in the debt restructuring process. The new agreement allows further time to implement the restructuring, and will expire on August 30. Specifically, the new agreement considers an equitization of all major debt claims held by the bondholders. Also, the latter will nominate two additional members to the board who will supply guidance and assist in the firm's ongoing restructuring efforts.
Are these stocks a buy or sell? Let us help you decide.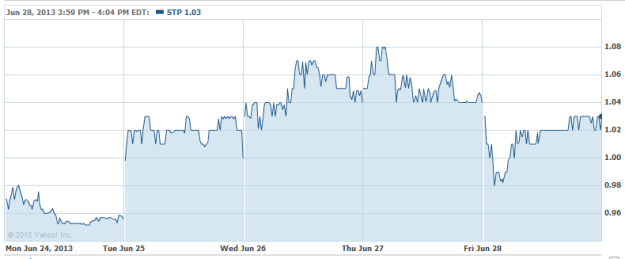 Intel Corporation (NASDAQ:INTC): Closing price $24.23
Chief Technology Officer and Director of Intel Labs Justin Rattner is stepping down, as his transition is required through Intel's corporate bylaws that state that Intel employees may not serve as corporate officers once they are past the age of 65. Rattner will take a personal leave at once to deal with a pressing family matter and will return to Intel at a later date in a role yet to be determined. Until further decisions connected with its leadership are made, Intel Labs will report to Intel President Renée James.
Are these stocks a buy or sell? Let us help you decide. Check out our Stock Picker Newsletter now.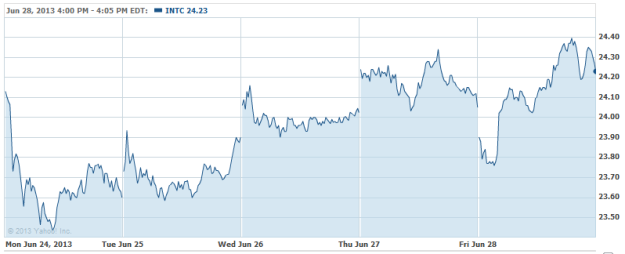 Don't Miss: BlackBerry's Quarterly Loss Sends Investors Running.