4 Tech Stock Stories to Feed Investor Demand
Dell (NASDAQ:DELL): Current price $13.78
A top shareholder of Dell, money manager T. Rowe Price Group, now says that it will not support the company's leveraged buyout offer. Chief Investment Officer Brian Rogers said in a statement that, "We believe the proposed buyout does not reflect the value of Dell and we do not intend to support the offer as put forward."
Are these stocks a buy or sell? Let us help you decide. Check out our Stock Picker Newsletter now.

Nokia Corporation (NYSE:NOK): Current price $4.13
On Tuesday, Nokia reported that it is protesting  a tax inquiry in India in the most recent of several disputes concerning a foreign company's tax records. However, the Finnish firm also said it has thus far not received any information on potential claims from the investigation that started last month. India is now crucial to Nokia's attempt to retain its global market share. Also on Tuesday, it announced an expansion of its Asha line of low-end smartphones as that country is widely seen as a key market for such cheaper models.

Apple (NASDAQ:AAPL): Current price $473.30
Nowadays, Apple and Google face unequal subjective market conditions because their abilities to compete are different. A new report from Morgan Stanley, The Next Google Is Google, says that Google might have to pay more than $1 billion in 2014 to stay the default search engine on iOS. That is an breathtaking jump from way back in 2009 when it shelled out a mere $82 million for the same privilege. Analyst Scott Devitt says that this is a per-device deal increasing annually. The report suggests that the aggregate traffic acquisition cost is a bit proportional to the number of iOS unit sales with a traffic acquisition cost rate slowly rising from $3.2 per unit in 2012 to an estimated $3.3 per unit in 2013 and $3.5 per unit next year.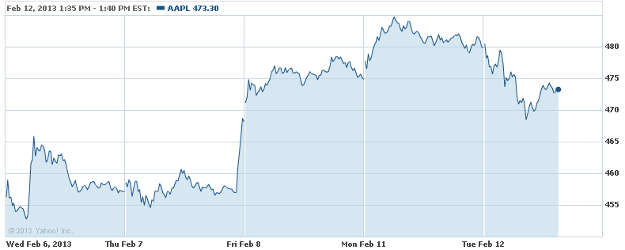 American Express Company (NYSE:AXP): Current price $62.33
On Monday, the company launched a service which enables its cardholders to purchase products by sending a short message, thus inaugurating the first "pay-by-tweet" service on Twitter. The joining of a leading payment mechanism into Twitter marks one of the more ambitious endeavors thus far to build ecommerce directly into a social media site.

Don't Miss: Can BlueStacks Give Microsoft's Tablets an Edge?