4 Tech Stock Stories to Kick Off the New Trading Week
Baidu Inc. (NASDAQ:BIDU): Closing price $142.59
On Monday, the Chinese search major Baidu officially released a HDMI TV plugin, which appears to be a clone of Google's Chromecast. The devise is being sold on the e-commerce site Jingdong for $32, reported first by Tencent Tech, as the firm ventures into the hardware space to extend Web services beyond its traditional outlets. Earlier in September, Baidu began selling smart TVs in China by means of its iQiyi business. Later, it discretely announced the debuts of three gadgets: a USB WiFi dongle, a wireless router, and a TV dongle.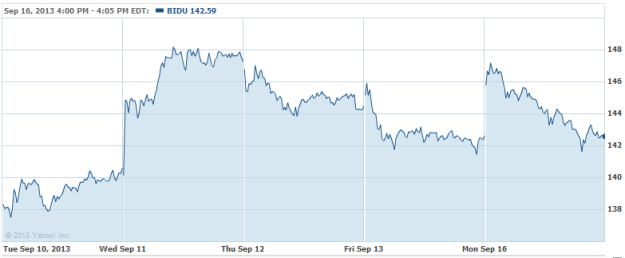 Apple Inc. (NASDAQ:AAPL): Closing price $450.12
China Unicom (Hong Kong) Ltd., has announced that online reservations for Apple Inc.'s new iPhone 5C and 5S have topped 100,000 units since they were unveiled last week. China Unicom reported the volume of registrations via its official account with Sina Corp.'s Weibo microblog, but thus has not divulged pricing plans for the handsets which are set to go on sale September 20. Apple introduced the 5S and 5C models for the networks of China Unicom and China Telecom Corp. last week, as it attempts to reverse a declining share in the world's number-one mobile-phone market.

Sprint Nextel Corp. (NYSE:S): Current price $6.64
Sprint is readying the debut of Sprint One Up, its program that permits its customers to pay for their smartphones or tablets in monthly installments and upgrade after each year by trading in their devices, according to CNET. One Up is set to launch on September 20. Sprint comes in last of the national carriers to offer a program like this after T-Mobile sparked the trend in July with its own Jump program. Quickly afterwards, AT&T debuted NEXT and Verizon then introduced Edge.

ParkerVision, Inc. (NASDAQ:PRKR): Closing price $3.15
The developer and marketer of semiconductor tech solutions for wireless applications announced that on Friday, a pretrial statement was filed with the district court in the middle district of Florida concerning its patent infringement case against Qualcomm, Inc. The pretrial statement is a required joint statement filed by ParkerVision and Qualcomm prior to the pretrial conference set for September 19 and provides the proposed lists of exhibits, witnesses, jury instructions, and jury selection questions, among other things. The document discloses that ParkerVision seeks damages in this case of close to $500 million.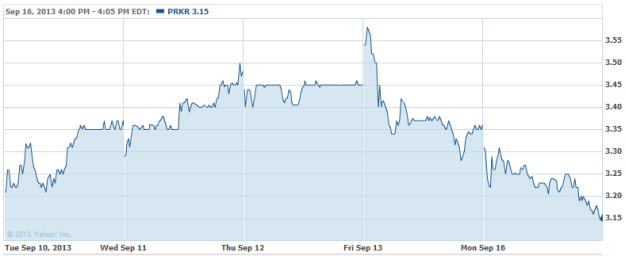 Don't Miss: How Faulty Oil Pipelines Are a Threat Across the U.S.