4 Tech Stock Stories to Start Off the Second Half
Apple (NASDAQ:AAPL): Closing price $409.22
It was reported on Monday by Les Echos that the French anti-trust watchdog Autorité de la Concurrence searched Apple offices, wholesalers and retailers last week, as part of  an inquiry into whether Apple conducts anti-competitive practices in that country. The regulator is examining the manner in which Apple provides independent wholesalers and retailers with its tablet, smartphones, laptop and desktop computers. Independent retailers allege that Apple violates existing accords by favoring its own stores, says Les Echos.
Are these stocks a buy or sell? Let us help you decide.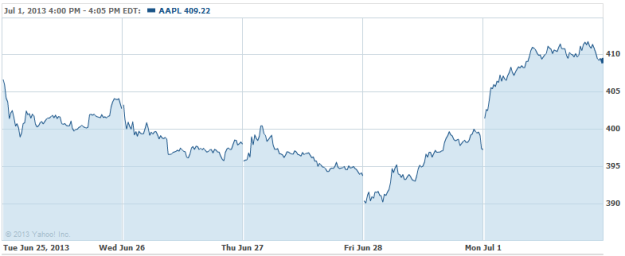 Rackspace Hosting (NYSE: RAX): Closing price $38.56
On Monday, the open cloud firm said that it has reached a one-year contributor agreement with CERN openlab. During the collaboration, Rackspace will supply a hybrid cloud solution containing its public and private clouds powered by OpenStack, to assist CERN advance its mission by enabling more in-depth research into the origins of the universe. CERN openlab supplies a framework to test and validate cutting-edge information technologies and services in partnership with industry at CERN, which is the European Organization for Nuclear Research. The new tech collaboration with Rackspace will entail a number of joint initiatives, concentrated upon forming a reference architecture and operational model for federated cloud services between the Rackspace Private Cloud, Rackspace Public Cloud and CERNs OpenStack powered clouds.
Are these stocks a buy or sell? Let us help you decide. Check out our Stock Picker Newsletter now.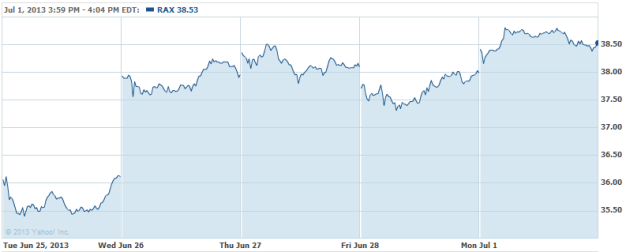 Google (NASDAQ:GOOG): Closing price $11.80
It is being reported by AllThingsD that the world marketing director for Google's Play store for the past two years, Patrick Mork, will soon exit the firm. Mork came to Google's Android unit in 2011, at he same time the Android Market rebranded to Google Play and the then-Android chief Andy Rubin was accelerating the firm's content endeavors. Mork led the marketing teams which drove the new Play globally, promoting books, movies, music and games to everyone.
Are these stocks a buy or sell? Let us help you decide.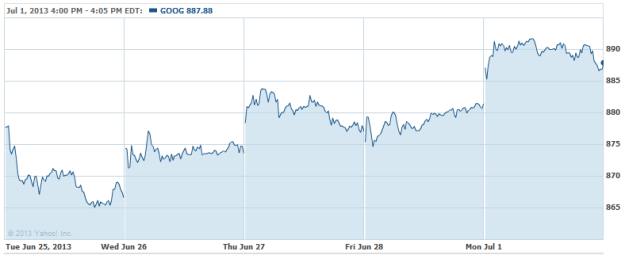 Canadian Solar (NASDAQ: CSIQ): Closing price $11.80
Canadian Solar has reported that it has won an exclusive module supply agreement through which to supply photovoltaic modules that total 91 megawatts for the Soleq Solar (Thailand) Co. power plant projects in Thailand. Spokesperson for the latter said that We chose to work with Canadian Solar because of their vast industry experience and track record delivering high quality modules to large scale solar power projects worldwide. Canadian Solar understands our requirements for quality and reliability, and is a perfect fit with our focus on maximizing return on investment while generating clean, renewable energy for Thailand."
Are these stocks a buy or sell? Let us help you decide. Check out our Stock Picker Newsletter now.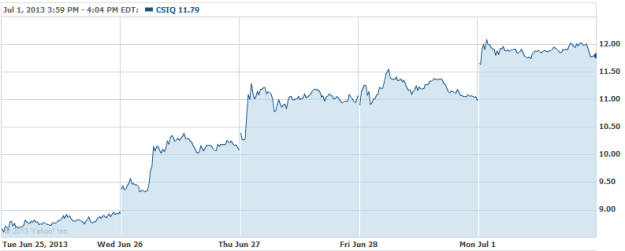 Don't Miss: Google Is Closer to Winning Its Books Battle.