4 Tech Stock Stories to Start the Trading Week
Apple (NASDAQ:AAPL): Closing price $450.72
This week, United States government attorneys will confront Apple in a Manhattan courtroom, as they attempt to show that the firm conspired with publishers to hike prices in the e-book market. Not only will the evidence in the case determine whether Apple violated antitrust laws; it will also describe how the launch of e-books created a revolution in the publishing industry, enlisting appearances by major names such as Amazon (NASDAQ:AMZN) and Barnes & Noble, and emails from the late Steven P. Jobs. The case was brought in 2012, when the Justice Department accused Apple and five book publishers of colluding to raise e-book prices, saying that the concept was to let publishers set their own prices rather than the retailers.
Are these stocks a buy or sell? Let us help you decide.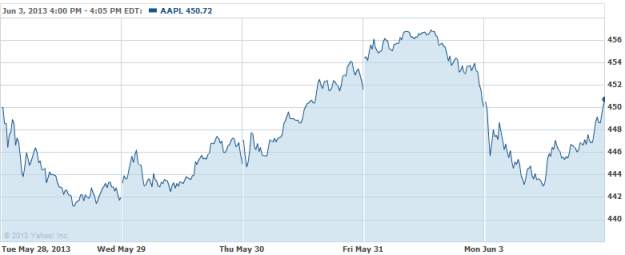 Microsoft Corporation (NASDAQ:MSFT): Closing price $35.59
Microsoft will introduce Windows 8.1 in preview on June 26. This new version is not just about returning the Start button, as has been mentioned several times in the media. For Microsoft, the launch is also a chance to lure businesses of all sizes to take another look at an operating system at which they have not paid a lot of attention. On Monday, at its TechEd conference in New Orleans, Microsoft supplied new details concerning the features it is adding to Windows 8.1 to make the system more attractive for businesses and enterprise information tech departments. The company says that it built Windows 8 "to bring the most powerful and modern computing experience to businesses and to help professionals stay connected to their colleagues and clients from anywhere, anytime," and the next version will build on this and add several new "manageability, mobility, security, user experience and networking capabilities."
Are these stocks a buy or sell? Let us help you decide.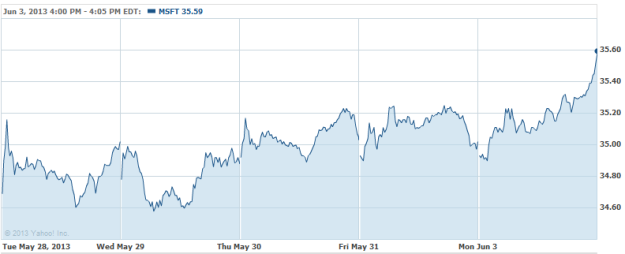 Infosys Limited (NASDAQ:INFY): Closing price $43.43
Infosys announced Monday that its board has named N. R. Narayana Murthy into the board and executive leadership of the firm. In a meeting held earlier Monday, Murthy was appointed as executive chairman and additional director with effect from June 1st. Murthy's election as a director will be placed before the consideration of the shareholders in the annual general meeting on June 15.
Are these stocks a buy or sell? Let us help you decide.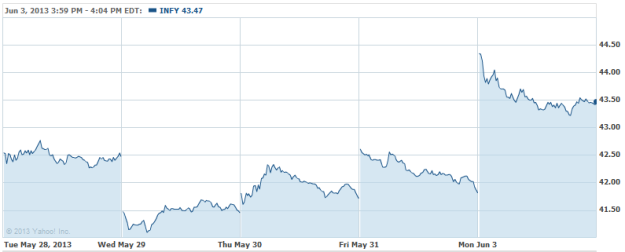 Facebook (NASDAQ:FB) :Closing price $23.85
On Monday, Wells Fargo assumed coverage of Facebook with a Outperform, and a modified price target of between $30 and $32, down from the range of $36 to $39. The analyst Peter Stabler adjusted the firm's 2013 revenue and earnings per share estimates to $6,646 million and 59 cents, compared to the previous $6,600 million and 58 cents. The 2014 estimates moved down to $8,239 million and 75 cents from $8,500 million and 80 cents. Stabler commented in part, "We see the rise of native advertising as a by-product of the ongoing fragmentation of traditional media channels, and the pivot away from the traditional "broadcast" advertising model that relies on a narrow set of creative messaging assets. To this end, we expect social platforms to grow into being key content distribution points for a wide range of marketers. While we're bullish on Facebook's position within this movement, we also point out the challenges associated with the launch of new communication forms and the time required for marketplace education."
Are these stocks a buy or sell? Let us help you decide.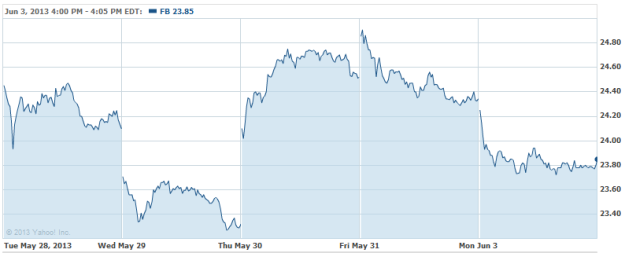 Don't Miss: How Many More Taxes Can Apple Dodge?