4 Things to Look Out for in Apple's Earnings Tonight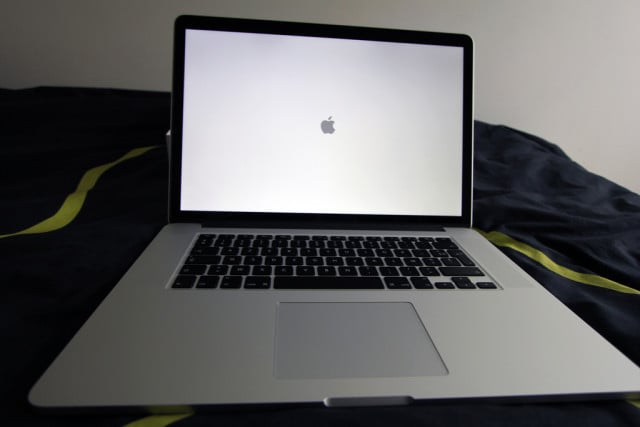 Apple (NASDAQ:AAPL) stock edged down into the Tuesday closing bell in anticipation of the company's fiscal 2013 third-quarter earnings. On average, analysts are expecting revenues to be effectively flat on the year at $35.01 billion, while earnings are expected to fall from $9.32 per share in the year-ago period to $7.32 per share.
But investors should look further than the company's top and bottom line. Here are a couple of other things to keep an eye on when Apple reports this evening:
1) Margins
Apple's industry-leading margins pushed their way to center stage during the company's fiscal second-quarter earnings report. Just over a year ago, Apple enjoyed a gross margin of 47 percent, which helped catapult the company to the top of the earnings chart. While that margin is still thick — 37.5 percent in the last quarter — investors are still keeping a sharp eye on it. Apple guided a gross margin between 36 and 37 percent for the third quarter, a number that could decline further if the company pursues a different product mix that includes things like low-cost iPhones.
| | | | | | | |
| --- | --- | --- | --- | --- | --- | --- |
| | Mar. 31, 2012 | Jun. 30, 2012 | Sep. 30, 2012 | Dec. 31, 2012 | Mar. 31, 2013 | Jun. 30, 2013 (guidance) |
| Gross Margin (%) | 47.4 | 42.8 | 40.0 | 38.6 | 37.5 | 36 to 37 |
2) Earnings and Sales Growth
In the second quarter, Apple reported its first quarter-over-quarter earnings decline in a decade and its slowest rate of quarterly revenue growth in years. Since the third quarter of 2012, quarterly revenue growth has slowed to a pace last seen at the peak of the Great Recession.
In many ways this slowdown is indicative of the company maturing, but investors will still want to see positive earnings growth in the future.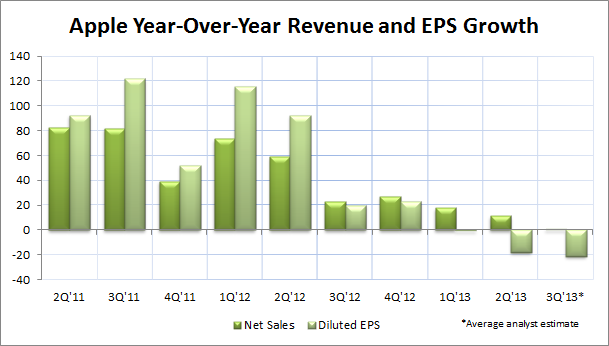 3) Product Mix
It's important to understand that while the iPhone is by far Apple's biggest cash cow, it is growing the slowest of any major product category. At this point, as indicated below, the iPod is showing negative growth. Sales of the music player have been cannibalized by the iPhone and iPad — a development that is not necessarily bad. Apple executives seem comfortable with the idea that the device's relevancy is diminishing.
Last quarter, the iPad accounted for 20 percent of total revenues while growing 40 percent on the year, the highest growth rate of any category. Following the iPad was revenue from iTunes, software, and services, the last a category the company and investors will be putting more and more weight on as it grows in the coming years. Mac sales continued to plug along at a single-digit rate.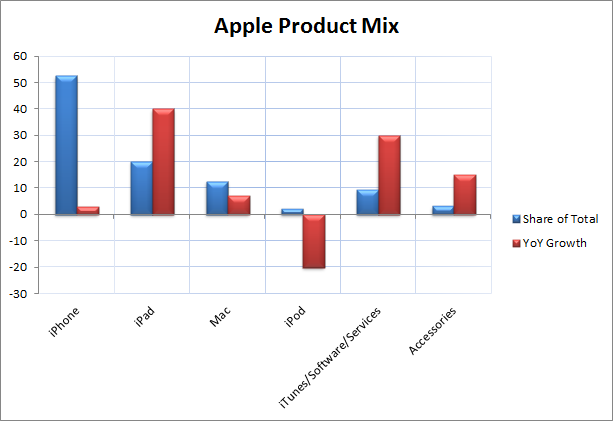 4) New Products in the Pipeline
This is the million — billion, more likely — dollar question: What's next for Apple? On the company's last earnings call, CEO Tim Cook indicated that the company needed more time before it released any cool new products. What's more, it is pretty clear that the company will need several quarters, if not a few years, to pull a new iRabbit out of its hat. Just like products, broad tech industry innovation seems to move in cycles. If one is coming toward a close, then Apple will mature until the next one. At best, analysts expect an interesting product launch sometime in the second half of 2013.
Products were a big part of the concern that lead to an enormous decline in the company's stock late last year. There was a lengthy period of time when a lack of new products scared some investors, and a sense that Apple's seemingly limitless pool of innovation had begun to evaporate. The current and previous quarters should provide an opportunity for the company to demonstrate that it can still sell products without launching something revolutionary every quarter.

Don't Miss: Is the Smartphone Market Really Slowing Down?