4 Ways in Which Apple's Users Trump Samsung's
A recently released study conducted by market research firm Consumer Intelligence Research Partners reveals how Apple (NASDAQ:AAPL) and Samsung (SSNLF.PK) acquire their customers. The study relies on surveys of smartphone buyers to discover which operating systems and devices were previously used by both Samsung and Apple customers.
Overall, Apple appears to be trouncing Samsung when it comes to customer loyalty and retention. The report also reveals some interesting statistics about the ages, incomes, and education levels of Apple buyers versus Samsung buyers. Here are four ways that Apple and its customers are better than Samsung's.
1. Samsung Customers Flock to iOS
Not surprisingly, CIRP's study found that a large number of Apple and Samsung customers were already familiar with each company's operating system. About 42 percent of Apple customers already used iOS, while 43 percent of Samsung customers already used Android.

However, when it comes to customers migrating from one operating system to the other, Apple appears to be far more magnetic than Google's (NASDAQ:GOOG) Android. Approximately 20 percent of Apple's customers come from Android, while only 7 percent of Samsung customers are former iOS users.
2. Apple iPhone Buyers Are More Loyal
Apple has a reputation for retaining users through its "sticky ecosystem" that offers a seamless user experience across devices. This CIRP study provides more evidence to support this reputation by noting that 42 percent of iPhone buyers previously owned an iPhone, while only 38 percent of Samsung smartphone buyers previously owned a Samsung device.

3. Apple Steals More Customers From Samsung
Perhaps even more telling is the fact that Apple is attracting more former Samsung owners than Samsung is drawing former Apple device owners when it comes to customers who are switching brands. Among customers who switched brands, Apple acquired 33 percent of its total buyers from Samsung. On the other hand, the Korea-based smartphone maker only drew 11 percent of its new customers from Apple's ranks.

4. Apple Customers Are Younger, Richer, and Better Educated
Although Samsung's advertising campaign would have you believe otherwise, the CIRP study reveals that Apple users hold the majority share of the young, wealthy, and highly educated demographic profiles. Apple has a slightly greater percentage of younger customers with 69 percent of its buyers between the ages of 18 and 34, while Samsung holds a 64 percent share of this demographic.
However, when it comes to income and education there is an even greater disparity. About 38 percent of Apple buyers have an income above $75,000, while only 29 percent of Samsung customers fall into this group. Similarly, 48 percent of Apple buyers have at least a college degree, while only 32 percent of Samsung buyers have a college-level education.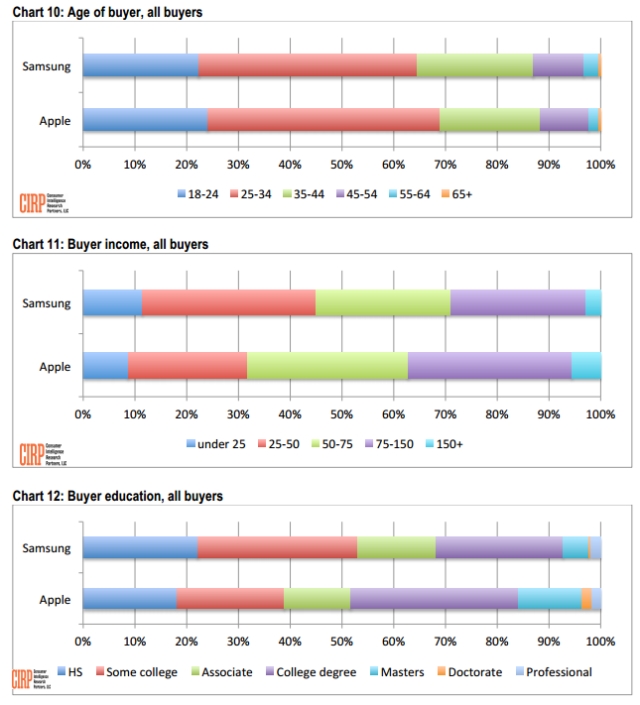 Here's how Apple traded on Thursday: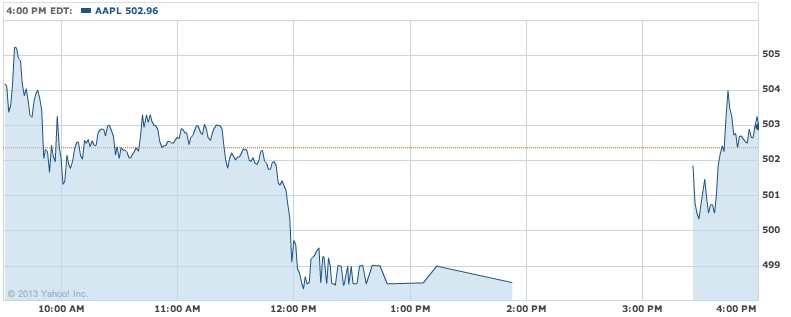 Follow Nathanael on Twitter (@ArnoldEtan_WSCS)
Don't Miss: Did Icahn's Position Disclosure Hurt Apple's Bonds?