4 Ways Apple Wants You to Know It Loves the World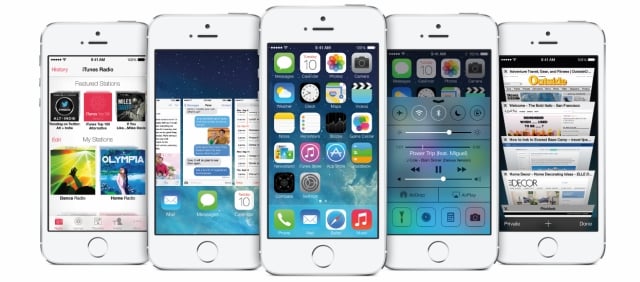 In 2013, brand consulting company Interbrand gave Apple (NASDAQ:AAPL) the title of world's most-valuable brand. According to the firm, Apple's brand value increased 28 percent from 2012 to $98.3 billion, replacing 13-year front runner Coca-Cola. "For revolutionizing the way we work, play, and communicate — and for mastering the ability to surprise and delight — Apple has set a high bar for aesthetics, simplicity, and ease of use that all other tech brands are now expected to match, and that Apple itself is expected to continually exceed," wrote Interbrand.
But Apple's brand, as strong as it is, is not without chinks. Apple has received a lot of criticism — and in some cases, hostility — for the behavior of businesses in its supply chain. Apple has taken flak for its relationship with Foxconn and for the environmental impact of the factories that produce many of the raw materials for its devices. Apple was also found guilty by a U.S. court for conspiring to fix the price of e-books bought through iTunes.
In order to address some of these issues, Apple has been reaching deep into its supply chain and conducting audits of the companies it does business with. Here are some highlights from Apple's 2014 report on its efforts.
1. Knowledge is half the battle
Education doesn't make the world go around — it moves the world forward. Apple certainly knows this, and is, in fact, capitalizing on it. The company has positioned the iPad as the go-to piece of technology for the modern classroom, and has built a sophisticated platform of apps and services to support it.
But, as these things go, you're better off practicing what you preach, especially if you're one of the largest businesses on the planet. Hypocrisy can be anathema to a brand, and many people (would-be customers) are hostile toward Apple because of the less-than-perfect reputation of its suppliers. One of the primary purposes of Apple's Supplier Responsibility initiative is to address the concerns raised by these people by assuring them that the company is practicing what it preaches.
"To do business with Apple, our suppliers must live up to the toughest standards in the industry, and we make sure there's no confusion about our expectations," writes Apple in its 2014 Progress Report (many consumers would say the same thing about their relationship with Apple.) "We train factory supervisors how to meet the high bar we set, with instruction on communicating with workers, maintaining a safe and respectful workplace, and avoiding harassment."
Since 2007, when Apple began addressing its supply chain issues in earnest, the company reports that it has helped train more than 1.5 million people on their workplace rights. In 2013, it doubled the number of Supplier Employee Education and Development sites, and provided free courses to more than 280,000 people.
2. Being nice
As bad as some workplaces can get in the United States, it's easy to take our labor laws for granted. One of the chief accomplishments of Apple's audit regime is compliance tracking for a 60-hour workweek. "Workweeks exceeding 60 hours have been a persistent problem for the electronics industry, and reducing excessive overtime remains a priority for Apple," the company wrote in its progress report. "We limit workweeks to 60 hours except in unusual circumstances."
Apple's suppliers achieved an average 95 percent compliance rate across all workweeks in 2013, up 3 percentage points from 2012. Among workers that worked at least 40 hours per week, the average work week was 54 hours; among all workers, the average work week was under 50 hours. Additionally, over 97 percent of workweeks complied with a requirement to have at least one day of rest in a seven-day period.
For comparison, according to the most-recent Employment Situation report, the average workweek for all U.S. employees was 34.4 hours, and the average manufacturing workweek in the U.S. was 40.7 hours.
Here's how the workweek of Apple's supply-chain employees looks over time. Note the average workweek increases in September, probably because production ramps up for the coming holiday shopping season in the U.S.
3) Be healthy, be happy
As it began auditing its supply chain, Apple came across an interesting problem: there were not enough experienced or qualified environment, health, and safety managers to meet the needs of employees at the supply chain companies Apple worked with.
"There's a shortage of people with advanced EHS skills," Apple commented in its report. "So in too many cases, factory supervisors have had no alternative but to assign underqualified personnel to EHS leadership roles. These people can fix problems after the fact, but they lack the education and knowledge to proactively find and resolve issues before they become problems."
In order to address this problem-generating problem, Apple worked with Nanjing University, Sun Yat-sen University, and the Institute for Sustainable Communities to develop a supplier environment, health, and safety academy. The academy offers 18-month programs that teach the skills that managers need to make workplaces healthier and safer. In 2013, the academy had 240 participants from 60 supplier facilities, representing about 270,000 workers.
Some of this training includes specific health and hazard training for workers dealing with dangerous manufacturing procedures or hazardous chemicals. Training also includes lessons on emergency preparedness and workstation ergonomics.
4. Love the earth
Apple doesn't just love people, it loves the earth — a lot. "Even when local regulations are less stringent than our Supplier Code of Conduct, we expect our suppliers to go above and beyond the law to protect their local communities and minimize impact to the environment," Apple wrote in its progress report. "Suppliers must uphold all of our environmental standards — including hazardous waste management, wastewater management, stormwater management, air emissions management, and boundary noise management — wherever Apple products are made." The EHS academy is also used as a platform to propagate the knowledge necessary address environmental issues faced by Apple suppliers.
Apple also introduced the Clean Water Program in 2013. The program was rolled out at 13 "water-intensive sites," which together consume more than 41 million cub meters of water per year. Apple evaluates each facility's use of chemicals and the entire waste water management system, identifying where it can be more efficient and effective.
More From Wall St. Cheat Sheet: