5 Bullish Analysts' Reactions to Apple's Happy Earnings
Although third-quarter results revealed that Apple's (NASDAQ:AAPL) gross margins slipped from 42.8 percent to 36.9 percent and that profit declined by 22 percent from the year-ago quarter, the iPhone maker still managed to beat most analysts' expectations. As a result, several bullish analysts picked up on some positive future trends in Apple's better-than-expected quarterly report. Via Barron's, here are five analysts' happy reactions to Apple's fiscal third-quarter results.
1. Brian Blair
Although Wedge Partners analyst Brian Blair doesn't offer an official Apple stock rating, he does state via Barron's that, "it's time to own Apple again." He cites upcoming product refreshes, a "foray into television," and an expected increase in gross margins as reasons for investors to own Apple shares. "'Bad news' is now in the rear view mirror," writes Blair.

2. Collin Gillis
BGC Partners analyst Gillis maintains a $500 price target and a Buy rating on Apple stock in anticipation of upcoming product refreshes. He also notes via Barron's that Apple is finally responding to the "changing market dynamics by introducing a mid-tier priced phone." Like many other analysts, Gillis expects the mid-range device will sell for approximately $400. Despite the lower cost of the "iPhone Lite," Gillis expects Apple will continue to hold on to "its position as a premium priced brand."

3. Katy Huberty
Before Apple revealed it had sold 31.2 million iPhones on Tuesday, Morgan Stanley's Huberty accurately predicted that the Cupertino-based company had shipped between 29 and 32 million iPhones. Although Apple failed to hit her predicted quarterly revenue of $36 billion, the analyst is keeping a bullish perspective on Apple stock.
Via Barron's, the analyst notes the many signs that indicate Apple is shipping new products in the fall, including the "wider than normal revenue guidance range of $3B." Huberty is keeping a $540 price target and an "Overweight" rating on Apple shares. She is also increasing her forecast for Apple's September quarter revenue from $35.7 billion to $35.8 billion and boosting expected EPS from $7.18 to $7.51.

4. Bill Shope
Goldman Sachs's analyst Bill Shope notes several positive factors in Apple's quarterly report, including the "robust" 25 percent year-over-year growth of revenues from Apple's iTunes Store and the 51 percent increase in Apple's U.S. iPhone sales. "We continue to view the iOS ecosystem as a key competitive advantage and source of customer stickiness; we also expect iOS services to continue evolving into a more meaningful profit center over time," writes Shope via Barron's. Shope reiterates a $530 price target and a Buy rating on Apple shares.
5. Brian White
Before Apple revealed its earnings on Tuesday, Topeka Capital Markets senior analyst Brian White had stated via CNBC that, "we are in a period where you have to be forgiving… because you are going to have a new product cycle that starts and when they give guidance they won't put that in, they don't want to tell, they don't want to reveal too much."
White returned to this forward-looking theme after Apple's third-quarter results were revealed, writing via Barron's that, "we believe Apple's profit cycle (both EPS and operating profit) reached the trough in 3QFY13." He believes that Apple will soon initiate a "sustainable recovery" in the stock price by creating new market opportunities through the introduction of a new "lower-priced iPhone in September." White has an $888 price target and a Buy rating on Apple shares.
Here's how Apple traded today.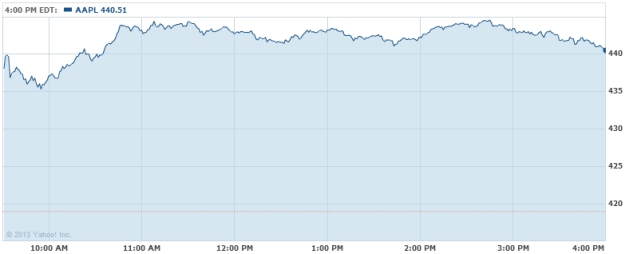 Don't Miss: On Hold? Apple Wants to Make Waiting Fun.
Follow Nathanael on Twitter (@ArnoldEtan_WSCS)