5 Elite Stocks That Could Push the Nasdaq Past 4,000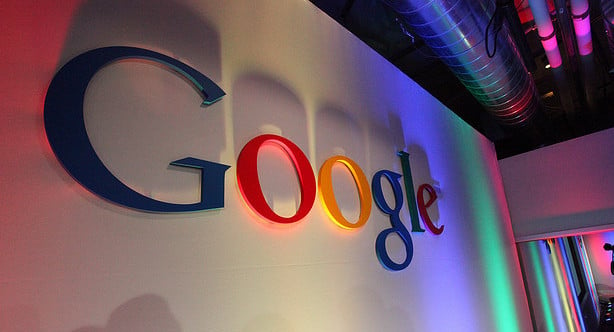 Will Nasdaq traders soon party like it's 1999? That was the first time the tech-heavy exchange crossed the 4,000-point threshold, and it looks like it could soon happen again. The Nasdaq Composite closed up 1.32 percent at 3,914.28 on Friday, and it appears to have a real possibility of going above 4,000 this week or next, especially considering it started at 3,772.05 at the beginning of last week. Here are five elite stocks that may help drive the Nasdaq toward its next milestone.
1. Google Inc. (NASDAQ:GOOG)
Google recently pushed its shares to an all-time high of $1,011.41 after reporting quarterly earnings per share and revenue that beat Wall Street's expectations. Google reported EPS of $10.74 and revenue of $14.89 billion, beating the consensus estimates of $10.34 per share and revenue of $14.79 billion.
Although it is primarily known for its Internet search engine business, the tech giant has expanded to include cutting-edge technologies like Google Glass and self-driving vehicles. Google has seen its stock rise by more than 48 percent over the past year, and it is one of the major reasons why the Nasdaq may hit 4,000 this week.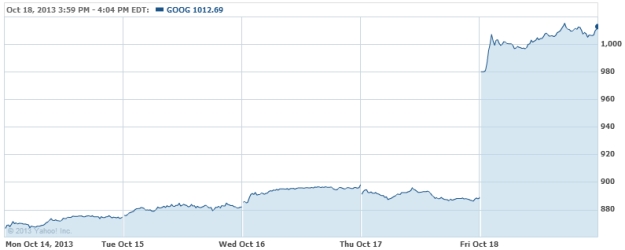 2. Microsoft Corp. (NASDAQ:MSFT)
Microsoft is another top-performing tech stock that may help drive the Nasdaq above 4,000 again. The maker of the nearly ubiquitous Windows operating system has seen its stock climb more than 22 percent over the past year of trading. Although there has been a widely reported decline in worldwide PC sales, Microsoft's Windows still remains the default choice for big businesses.
The software company is also expanding its presence in enterprise through its cloud-based software platforms, and Microsoft isn't just resting on its PC software laurels. The company has made moves to secure its mobile future by recently announcing plans to acquire Nokia Corp.'s (NYSE:NOK) phone business by the first quarter of 2014. Other reports suggest the company is looking to grow its mobile platform through several "dual-boot" device deals with Android-based smartphone makers.
Microsoft will report its quarterly earnings this week, on Thursday, and the results may determine if the Nasdaq crosses the 4,000 threshold. Microsoft closed up 0.11 percent at $34.96 on Friday.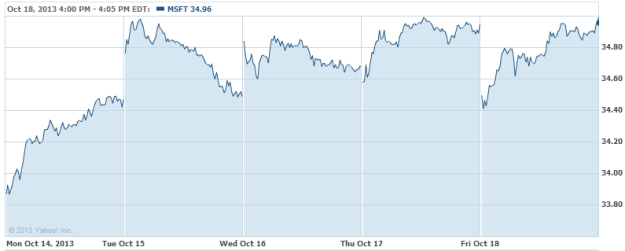 3. Amazon (NASDAQ:AMZN)
Amazon, the world's largest online retailer, is another major driver behind the Nasdaq's recent rise. The company's stock has risen more than 37 percent since this time last year and closed up 5.84 percent at $328.93 on Friday.
Much of Amazon's success can be attributed to the innovative vision of the company's founder. Vanity Fair recently named Amazon founder and CEO Jeff Bezos the biggest industry disrupter of the year, and The New York Times once called him "the natural heir of Steve Jobs as the entrepreneur with the most effect on the way people live now."
With no major rivals to speak of in the online retail business, it would appear that the sky's the limit for Amazon.

4. Facebook (NASDAQ:FB)
Although Facebook had a somewhat rough debut on the Nasdaq, the social networking company has since become a major driver behind the market's growth. Facebook has seen its stock rise by more than 185 percent since October 2012, and on Friday it closed up 3.85 percent at $54.22.
The social media giant has seen phenomenal growth thanks to its soaring advertising revenue. According to eMarketer, Facebook's share of mobile Internet ad revenue in the U.S. went from virtually zero in 2011 to 9.4 percent in 2012, and it is estimated to be 15.3 percent this year.
Facebook's mobile advertising prowess is likely to soon improve even more thanks to its recent acquisition of Onavo, a mobile analytics and app developing company based in Tel Aviv. As CEO and founder Mark Zuckerberg noted in Facebook's second-quarter earnings report, "The work we've done to make mobile the best Facebook experience is showing good results and provides us with a solid foundation for the future."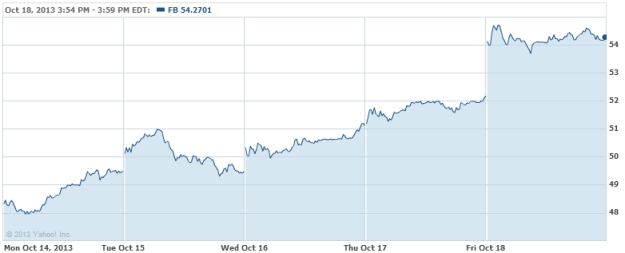 5. Apple (NASDAQ:AAPL)
Although Apple has yet to return to the $705.07 record high that it hit in September 2012, the company's history of innovation suggests that it has the potential to once again become another top-performing Nasdaq stock. Despite the 16 percent decline in its stock price since October of last year, the Cupertino, California-based iPhone maker remains the world's most valuable company, with a market cap of $462.33 billion.
Apple recently reported that it sold a record-breaking 9 million iPhone 5S and iPhone 5C models over the devices' launch weekend, and it is widely expected to unveil several new iPad models at a media event on Tuesday. Although Apple won't report its September quarter earnings until October 28, the upcoming media event announcements may help drive the Nasdaq toward and beyond the 4,000 mark. Apple closed up 0.87 percent on Friday at $508.89.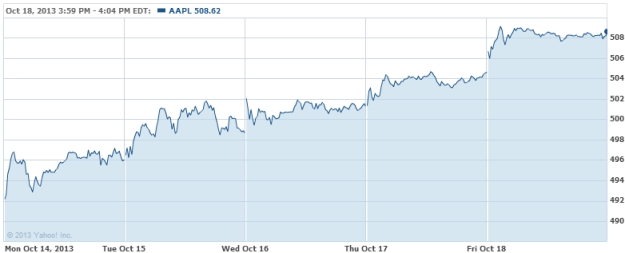 Follow Nathanael on Twitter @ArnoldEtan_WSCS
Don't Miss: Microsoft Pulls Update as Windows RT Flop Continues.