5 Reasons Google Play Could Soon Overtake Apple's App Store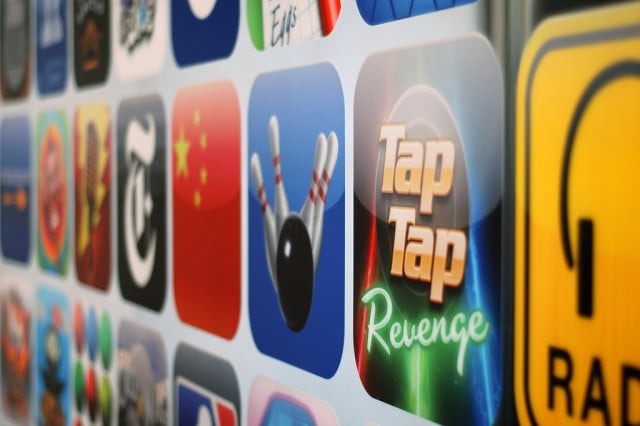 A recent study from Distimo on the most popular mobile apps and app stores found that Google's (NASDAQ:GOOG) Google Play store is growing much more quickly than Apple's (NASDAQ:AAPL) App Store, though Apple still comes out ahead of Google in terms of revenue. Google Play's revenue has grown 67 percent in the last six months compared to a 15 percent growth for Apple's App Store. Here's a look at what's been driving the growth of Google Play, and the reasons Google's app store could soon catch up with Apple's.
1. Japan and South Korea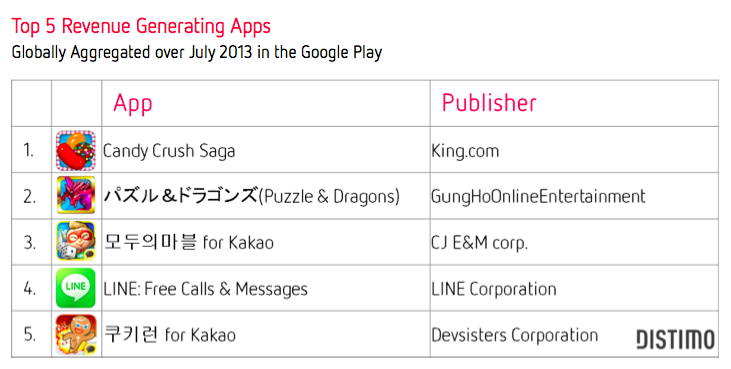 While the U.S. spends the most money on apps overall, Japan and South Korea contributed the most to Google Play's revenue. Phones running on Google's Android operating system have been highly successful in emerging markets. The trend can be see in the top five revenue generating apps for Google Play as four out of five are from either South Korea or Japan.
2. Candy Crush Saga

This popular mobile game has generated more revenue than all other apps for three months in a row, an important source of cash contributing to Google Play's recent growth. Candy Crush was the top revenue-grossing app for both Google Play and Apple's App Store. The game was the second most-downloaded free app in the App Store and forth most-downloaded free app in Google Play.
Candy Crush has 44 million monthly active users, which is more than Spotify, Pinterest, and Farmville. While the app itself is free, Candy Crush's main source of revenue include the opportunity for users to buy extra lives and other advantages within the game, which generates enough money within the app that the game's creator King.com stopped needing to run ads within Candy Crush.
3. Android's Market Share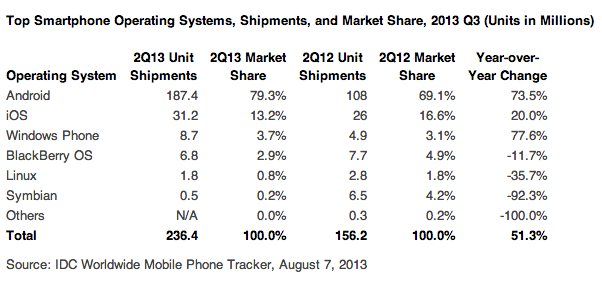 According to recent data from the International Data Corporation, Android has overtaken iOS as the most popular smartphone operating system, partially due to its inclusion in the Samsung (SSNLF.PK) Galaxy smartphones. That data showed that Android phones had a 79.3 percent market share, compared with 13.2 percent for iOS, a contributing factor to the rise in popularity of the Google Play store. But Google shouldn't get too comfortable with those numbers, as Apple is set to launch the iPhone 5S this fall.
4. Paid Apps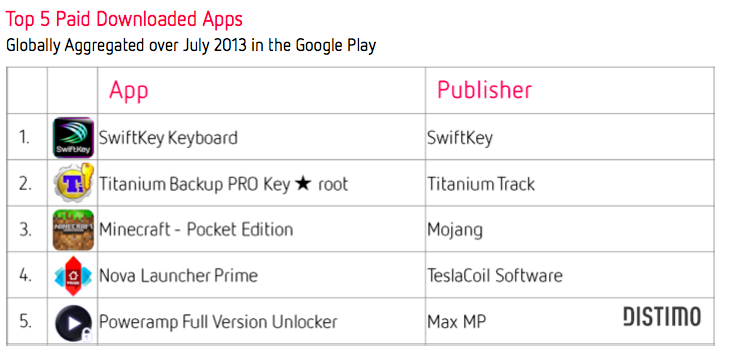 While the free app Candy Crush Saga might generate the most revenue, paid apps are also an important source of cash for app stores. While Apple's top five paid apps — WhatsApp, Minecraft, Contra:Evolution, Where's My Mikey?, and Pimp Your Screen — are mostly games, Google Play's top five were a mix of games and utilities, showing that people with Android phones use their apps for utility as well as fun, a crucial way for Google's apps to make themselves an important part of a smartphone user's daily life. Google Play's top five paid apps were Key Keyboard, Titanium Backup PRO, Minecraft, Nova Launcher Prime, and Poweramp Full Version unlocker.
5. But…Revenue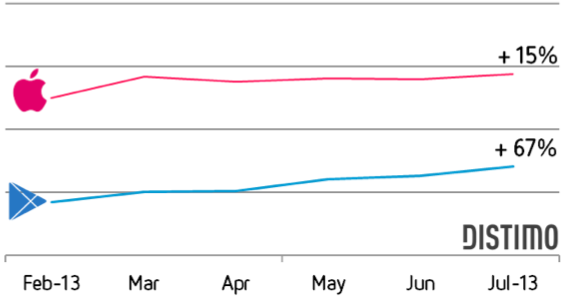 Although Google Play is growing by leaps and bounds in popularity, its revenue is still half that of Apple's App Store. But if Google Play can continue with it's current pattern of growth, it could soon outstrip the App Store. In February of 2013, Google Play accounted for just 25 percent of combined app revenue, and that figure is up to 33 percent for July. If Google's Android operating system maintains its success in emerging markets and Google Play continues to offer both the most popular games and utility applications, Google Play may soon generate more revenue than Apple's App Store.
Follow Jacqueline on Twitter @Jacqui_WSCS
Don't Miss: Needham: Apple Worth Less Than $600.