5 Reasons to Buy Apple Now
Apple (NASDAQ:AAPL) rose 31 percent in the last calendar year to be one of the best-performing stocks of 2012 and outperform the broad Nasdaq by almost twice the growth. Incredibly, though, by the time the euphoria of the launch of the iPhone 5 in September turned into the very real worry of fiscal cliff-related capital gains tax rise in December, the company's bears were out in full force.

Apple fell a little under 25 percent in the last three and a half months of the year, leaving some to wonder if they should make it part of their portfolio in 2013. Investing in Apple is serious business considering its high share price, so here are five arguments that support buying the iPhone maker's stock:
Should you buy or sell Apple's stock ahead of earnings this month? Our 20-page proprietary analysis will help you save time and make money. Click here to get your SPECIAL REPORT now.
1) Looking at Long-Term Delight
Who cares if there are a few challenges for the stock in the short term? Long term, Apple "offers a compelling combination of attractive growth, reasonable price, and significant future option value,"  according to Bernstein Research analyst Toni Sacconaghi. The analyst, who has an Outperform rating on Apple shares and a $750 price target, explained that the iPhone maker was slowly turning into a high-quality consumer company that is known for its premium brand and high customer repurchase intention, juts like Nike (NYSE:NOK) or Ralph Lauren (NYSE:RL). These repeat customers will add much-needed stability to the company's financials, the analyst added. By 2015, Sacconaghi said, Apple will have a "pristine balance sheet" and will be generating a "mind-boggling ~$50 billion a year in cash."
If Sacconaghi is to be believed, run for Apple while you can. Read what else the analyst had to say here.
2) Is Android's Dominance History?
According to latest numbers from Kantar Worldpanel, for the first time ever, Apple's iOS is the majority smartphone platform in the U.S. The company made up 53.3 percent of the market in the four-month period ending November 25, up from 35.8 percent in the same period last year. Google's (NASDAQ:GOOG) Android, meanwhile, was down to 41.9 percent from 52.8 percent last year.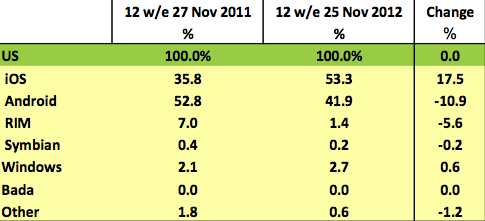 And there's further good news for Apple watchers. 
According to Kantar, of those who bought an iPhone in November, 40 percent were new smartphone buyers. In addition, 27 percent of iPhone buyers transferred from another platform. Read the results of the research in detail.
3) Halting the Tech Slump
The technology sector is receiving some pessimistic predictions for 2013, but if RBC Capital Markets analyst Amit Daryanani is to be believed, Apple will be the outlier. Daryanani named the iPhone maker as one of his top picks for the year based largely on its margin estimate. While investors in the company develop worry lines over if Apple's high margins are ready to start melting, this analyst is hardly bothered. "From a gross margin perspective, we believe the company should be in the 40 percent to 42 percent range in fiscal year 2013," Daryanani wrote.
He also expects "robust unit growth" in sales, of approximately 25 percent, to a total of 319 million units. According to Daryanani, a key driver adding upside to revenue expectations could be the "release of a new product line, iTV or otherwise, as the company has historically entered a new market on a three-year basis."
For more on the happy analysis, read this.
Save time and make money with our LOWEST ADVERTISED PRICE EVER to help you achieve your financial goals in 2013. This is a LIMITED TIME OFFER, so get your Stock Picker Newsletter now!
4) China for the Win
If Apple will be able to keep growing in China or wilt away has been a question on the minds of all the company's soothsayers. A large factor remains the absence of a relationship with wireless shark China Mobile (NYSE:CHL). If firm Apple bull Brian White of Topeka Capital is to be believed, not being able to offer the iPhone is hurting the provider more than its hurting Apple, and so, a deal is not far from landing in the latter's lap. White found that even though China Mobile, the world's largest carrier, has a total of 707.3 million subscribers, or 64 percent of the market in China, it only has 82.4 million 3G customers, or 37 percent of the country's 3G users. Tellingly, that share has fallen from 41 percent a year ago. Here's what White, who has a $1,111 price target on Apple, had to say.
5) Coming Out Tops
White has made Apple his overall top stock pick for 2013, saying that the company's losses in late 2012 were related to rising capital tax concerns and that the business was not even remotely in trouble. This year, he added, would bring in several positive catalysts. "We believe there is still plenty to look forward to at Apple, including the potential for greater choices (i.e., colors, sizes) around the next iPhone in 2013, combined with accelerating momentum with the iPad mini and continued strength with the iPad franchise at large," White wrote in a research note.
Don't Miss: Here's More Troll Trouble for Apple.