5 Reasons Why Apple Investors Should Welcome the iCahn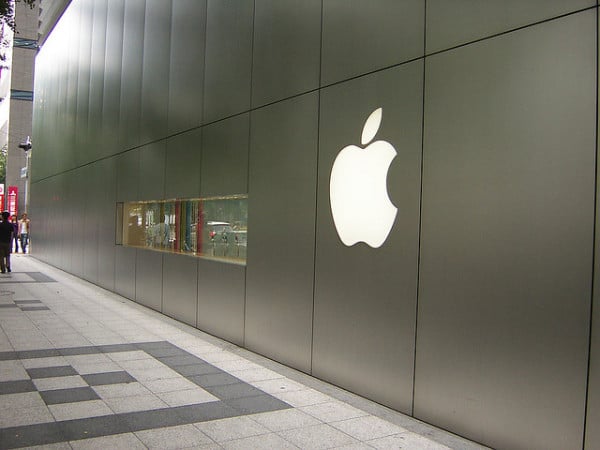 After spending almost an entire year in the dog house, shares of Apple (NASDAQ:AAPL) are starting to gain significant momentum.
On Tuesday, billionaire investor Carl Icahn announced via Twitter that his fund holds a "large position" in the world's largest publicly traded company. He believes Apple is "extremely undervalued," and had a "nice conversation" with chief executive officer Tim Cook about launching a larger buyback immediately. The activist investor did not disclose the amount of his investment, but the amount is believed to be around $1 billion. In a statement, Apple said, "We appreciate the interest and investment of all our shareholders. Tim had a very positive conversation with Mr. Icahn today."
Wall Street also appreciated the interest. Apple shares closed nearly 5 percent higher on heavy volume, and posted their second best day of the year. Since hitting its 52-week low of $385.10 on April 19, Apple is up about 27 percent — but still down 8 percent for the year. Most Apple investors appear to be very welcoming of Icahn. The founder of Icahn Enterprises (NYSE:IEP) has been on a roll this year and is considered to have the Midas Touch. Here's a look at five Icahn stocks that have been golden this year.
5. Chesapeake Energy (NYSE:CHK):
Icahn took a stake in the natural gas giant last year and successfully pushed for a shakeup of the company's board, which eventually led to founder Aubrey McClendon stepping down. Investors cheered McClendon's departure. Shares are up 51 percent year-to-date.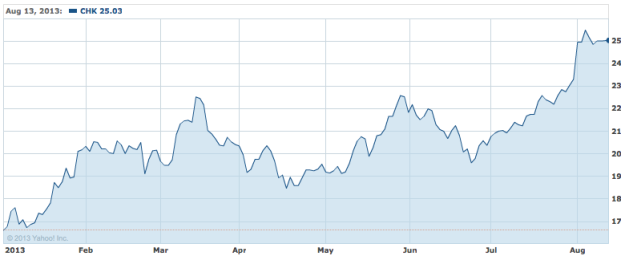 4. Herbalife (NYSE:HLF):
The battle between Icahn and hedge fund manager Bill Ackman has been one of the most entertaining feuds in Wall Street history. Shortly after Ackman publicly announced a huge short position in the nutritional supplement marketer, Icahn purchased more than 14 million shares. During a widely-watched debate on CNBC, Icahn said, "I don't like Ackman, I don't respect him, everybody knows that." However, Icahn admitted earlier this month that he now likes Ackman, as Icahn has made $500 million on Herbalife. Shares of Herbalife have almost doubled this year.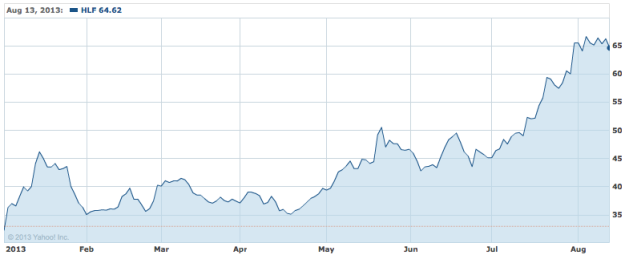 3. Dell (NASDAQ:DELL):
Apple is certainly not Icahn's first move into the tech industry. The billionaire is engaged in an ongoing fight for the future of Dell with the company's founder, Michael Dell. In fact, Icahn once tweeted, "All would be swell at Dell if Michael and the board bid farewell." Icahn's total position in the struggling computer company stands at about 9 percent. Shares of Dell have jumped 35 percent this year.

2. WebMD Health (NASDAQ:WBMD):
Icahn first disclosed a position in WebMD about two years ago. At the time, he believed shares were undervalued. As of the end of the first quarter, he held 6.7 million shares, worth almost $163 million. Shares of the health-information provider have surged 132 percent year-to-date.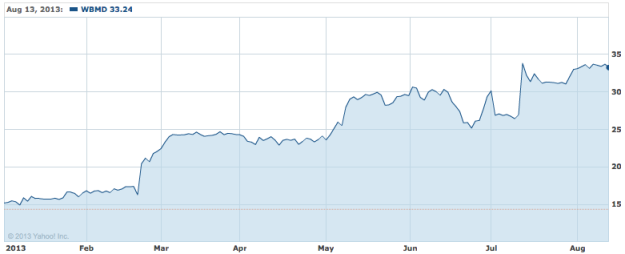 1. Netflix (NASDAQ:NFLX):
The online streaming company received a large boost in 2012 as Icahn disclosed a position of almost 10 percent. Last month, he admitted that he wanted to book profits, but his son, who also recommended buying Apple, convinced him to hold.
Speaking at CNBC's Delivering Alpha conference, Icahn explained, "I haven't sold one share and the credit goes to the two guys who run that fund, that account, they've had huge success this past year. One's my son, and I wanted to sell it 100 points ago. My son threatened to leave, my son, I helped that kid my whole life."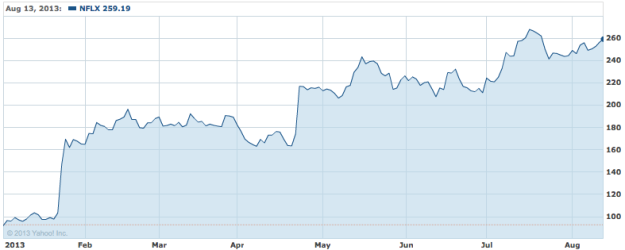 Don't Miss: Is Apple's Strength Beginning to Show in This ETF?
Here's how Apple traded on Wednesday: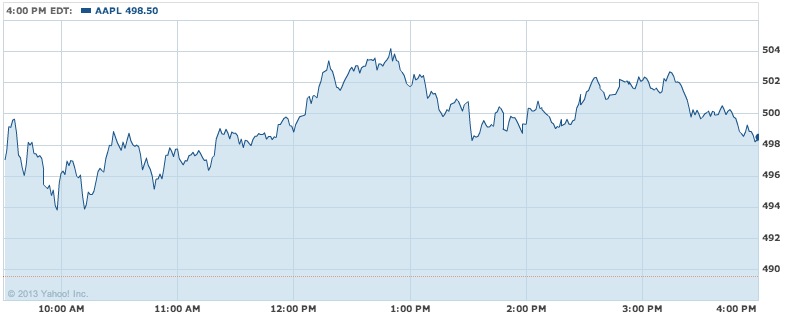 Follow Eric on Twitter @Mr_Eric_WSCS