5 Secret Products Sitting in Apple Labs Now
Many Apple (NASDAQ:AAPL) fans and analysts would love to know what incredible devices Tim Cook & Co. have up their sleeves. Although most people aren't privy to the secret product developments that take place on Apple's Cupertino campus, regular folks can still catch a glimpse of the company's inner workings by paying close attention to the tech company's patent filings.
UBS hardware analyst Steve Milunovich has highlighted five significant patents that could signal the development of five new products from the iPhone maker. We take a look:
1. E-Wallet and Electronic Payments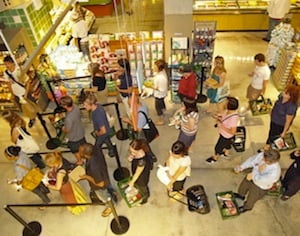 Milunovich notes that there have been many rumors suggesting that Apple's next iteration of the iPhone will feature a biometric fingerprint sensor combined with near field communication, or NFC, capability. These functions could easily lay the foundation for the iPhone's use as a convenient and secure mobile payment device. Apple's patent titled "Payment Options Based on Location" describes some of the other possibilities that an e-wallet would afford users.
2. Intelligent Stylus or "iPen"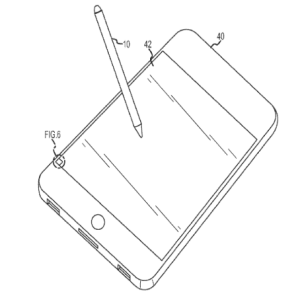 Although a stylus seems like a throwback to the Apple MessagePad PDA, this proposed device would have many more functions. The "Optical Stylus" would feature a camera and a pressure sensor that would allow a user to interact with display screens in three dimensions. Milunovich speculates that this device could easily be combined with a revolutionary painting or drawing software.
It could also be used in conjunction with a Projection iPad, essentially creating a giant iPad without incurring the cost of manufacturing a large touchscreen. Perhaps even more interesting, Milunovich imagines that this stylus device could be used in conjunction with Google (NASDAQ:GOOG) Glass, allowing users to dynamically interact with a virtual screen.
3. Automotive Technology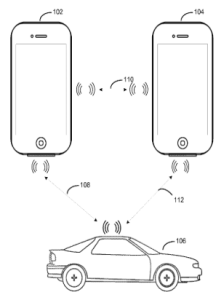 Apple's patent titled "Accessing a Vehicle Using Portable Devices" outlines a method for making your iPhone perform many of the functions that are found on many NFC (near field communication) vehicle access fobs. These remote functions can include starting the engine, rolling down the windows, and unlocking the doors.
However, instead of a generic NFC vehicle access device that could easily be used by anyone, your iPhone would require some form of secure authentication before it would allow a user to access a vehicle's functions. Milunovich notes that the fobs for luxury cars often need to be replaced, which can cost upwards of $500.
Enfolding a car fob's functions into the iPhone would give consumers a more secure and less costly method for remotely accessing their vehicle. Milunovich also notes that Siri has already been incorporated into some vehicles made by Honda, Chevrolet, and other manufacturers.
4. Gaming
Apple may also be gearing up to enter the world of gaming. Based on a patent titled "Relative Positioning of Devices Based on Captured Images of Tags," Milunovich believes that Apple could be preparing to create many different types of multi-user hybrid games that combine the virtual and physical worlds.
As described in the patent, this technology allows multiple users to "play a game together by sharing game information between the electronic devices." The patent also describes a method for people to easily find each other in crowded venues by using the relative positioning capabilities of their devices.
5. Smart Watch or "iWatch"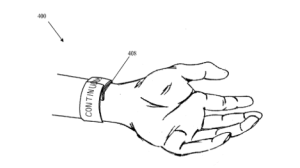 Finally, Milunovich believes the long-rumored iWatch device may also soon be coming out. He notes the many rumors that have emerged about this product, including a report from February that Apple had assigned a team of 100 employees to work exclusively on the device. Apple's "Bi-Stable Spring with Flexible Display" patent describes a smart watch device that incorporates a flexible screen.
The Cupertino-based company has long been rumored to be working on a smart watch that will utilize Corning's (NYSE:GLW) flexible Willow Glass. This would also be a logical entry for Apple to make in the growing wearable tech market.
Based on his analysis of Apple's possible future products and "amazing track record," Milunovich reiterates a Buy rating on Apple stock and a target price of $500.
Don't Miss: Apple's Mobile Devices Are Still Advertisers' Best Friends.
Follow Nathanael on Twitter (@ArnoldEtan_WSCS)