5 Things to Expect From Apple's WWDC
Apple's (NASDAQ:AAPL) much-anticipated Worldwide Developers Conference kicks off this Monday, June 10 with a keynote presentation at the Moscone Center in San Francisco. As usual, there are rampant rumors about which new products and services the Cupertino-based company might unveil at the WWDC this year. Although you never know what unexpected surprises Tim Cook & Co. may have up their sleeves, here are five things to expect at this year's WWDC.
1. iOS 7 and OS X
Let's start with the obvious ones. Apple has already announced that it will be unveiling a new version of its iOS mobile operating system and its personal computer OS X operating system. In a press release on Apple's website, Philip Schiller — Apple's senior vice president of Worldwide Marketing – stated, "We can't wait to get new versions of iOS and OS X into their hands at WWDC." So it's pretty clear that these products will debut at the WWDC. The only question is: what will the new software be like?
Many reports have emerged about the redesign of iOS 7. Jonathan Ive, the Senior Vice President of Industrial Design at Apple, has been leading the effort to remove the skeuomorphic design elements that have long been a part of iOS. This has led some insiders to describe iOS 7's appearance as "black, white, and flat all over."
OS X has been rumored to contain several anticipated upgrades, including an improved graphics card driver, wake-from-sleep connectivity to Wi-Fi, and a new version of Safari, reports MacNN. A bug fix for FaceTime and an improved battery life capability are also expected. Apple users are also anticipating that the new version of OS X will include support for the faster 802.11ac Wi-Fi protocol.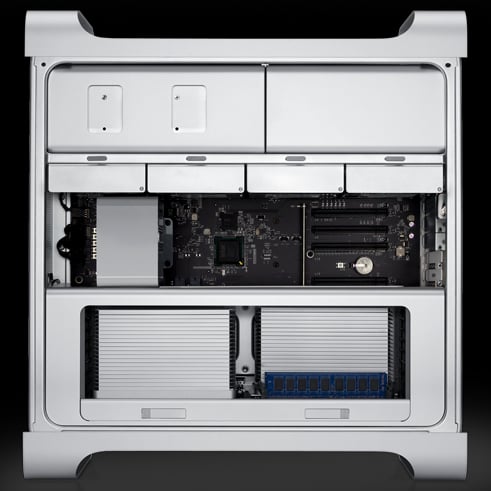 2. New Mac Pro
Some alert Apple observers have noticed a shrinking Mac Pro reseller inventory in the last few weeks. Typically a reduction in product stock for third-party vendors indicates that Apple is preparing to launch a new iteration of a product. The Mac Pro refresh rumors have also recently been bolstered by a statement from cryptic but accurate Apple product seer Jim Dalrymple.
Via his blog, Dalrymple states, "I would look squarely to the Mac side of Apple's product line. The Mac is still an important part of what Apple does, but I don't know that Apple would hold a special event specifically for a Mac product anymore. If they did, it would have to be quite a spectacular product. For me, the Mac products fit well with a Tim Cook keynote at WWDC. That's all I really expect from Apple in the way of hardware at the conference."
There have also been significant hints from Apple's own CEO. In an email posted on MacRumors last year, Tim Cook stated, "Although we didn't have a chance to talk about a new Mac Pro at today's event, don't worry as we're working on something really great for later next year."
3. New MacBook Pro and MacBook Air
Two other pieces of hardware that you can expect to see at this year's WWDC are new MacBook Pro and MacBook Air laptops. KGI Securities analyst Ming-Chi Kuo has predicted that Apple will unveil a new 13-inch Retina MacBook Pro that will feature a 1080p FaceTime high-definition camera. The current MacBook Pro model has a 720p camera. Cho also believes that the new MacBook Pro will have a thinner chassis.
Cho has also predicted that the MacBook Air will get an additional microphone similar to the current model of MacBook Pro. Many analysts are also anticipating that all the MacBooks will be upgraded with Intel's (NASDAQ:INTC) new Haswell series of chips. However, Cho believes that the lower-end MacBook Pro that doesn't have a Retina display will not include the upgraded chip.
Intel outlined the benefits of its latest generation of processors in an official press release that stated, "Fourth generation Intel Core processors can bring an 50 percent improvement in battery life over the previous generation in active workloads when watching movies or surfing the Internet, and two to three times improvement in standby battery life."
Similar to the Mac Pro, many Apple watchers are also anticipating that the new MacBooks will be upgraded with the faster 802.11ac Wi-Fi protocol capability.
4. iRadio
Apple has been trying to get its music streaming service off the ground for a while now, but has reportedly been having trouble getting music publishers to agree on a royalty deal. However, after music companies balked at Apple's original lowball royalty figure in March of this year, it now appears that negotiations are beginning to move forward. Apple was able to sign Universal Music to a deal in April and has also reportedly just recently signed a deal with Warner Music.
Apple's proposed music streaming service is rumored to combine elements of Pandora's (NYSE:P) ad-based service along with some on-demand features. It will likely work in tandem with Apple's paid  iTunes download business by allowing users to purchase songs through iTunes that they hear on iRadio.
Morgan Stanley's Katy Huberty estimates that if only 40 percent of Apple's current user base embraces iRadio, the service could potentially generate $883 million in annual revenue for the company. However, if 50 percent of Apple's user base adopts iRadio, this could mean potential annual revenues of $1.1 billion.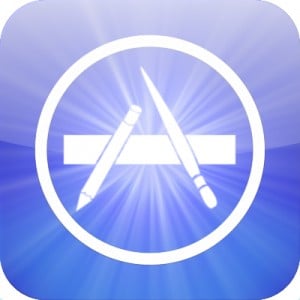 5. New APIs
Although new application programming interfaces may not sound as sexy as a faster MacBook or a new music streaming service, this could have an enormous impact on the quality of iPhone and iPad apps in Apple's ecosystem. Apple typically keeps a tight rein on third-party access to its software, ostensibly to protect users' security. However, Tim Cook recently hinted at the All Things D conference a few weeks ago that Apple may soon give developers greater access to the higher features in iOS.
"On the general topic of opening up APIs, I think you'll see us open up more in the future, but not to the degree that we put the customer at risk of having a bad experience. So there's always a fine line to walk there, or maybe not so fine," stated Cook.
In this sense, the new APIs that are likely to be unveiled at the WWDC could have a greater impact on the Apple user experience than all the other products and services combined. Apple has typically traded less openness in its software for a higher-quality user experience. It will be interesting to see if the balance changes at the WWDC. This year's WWDC runs from Monday, June 10 until Friday, June 14.
Here's how Apple traded on Friday: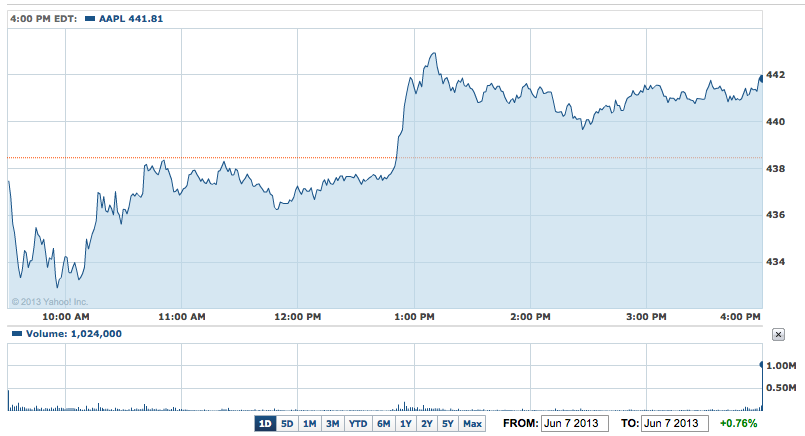 Follow Nathanael on Twitter (@ArnoldEtan_WSCS)
Don't Miss: Trouble? iPhone Sales Are Slipping in China.