5 Stocks Winning Despite Record Misery Levels
On Wednesday, the misery index, which is the sum of the country's inflation and unemployment rates rose to 13.0 in September.  This marks a 28-year high as Americans continue to feel the pain of a depressed economy.  Consumer prices increased 3.9% in the last 12 months through September, and the official unemployment rate remains over 9%.
Aside from the necessities like food and energy, what are consumers willing to splurge on in order to cope with the hard times?  The chart below compares 5 simple luxury stocks that have outperformed the broad S&P 500 (NYSE:SPY) market.
Investing Insights: Can AT&T Beat the Competition?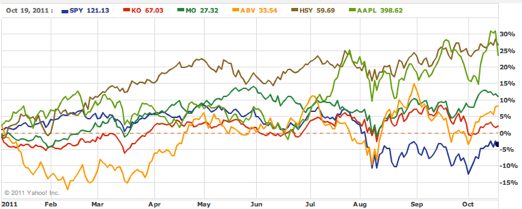 Year-to-date, Coca-Cola Company (NYSE:KO) shares are up 2% through Wednesday's close.  Coca-Cola manufactures, markets, and distributes soft drink concentrates, and is a long-time Warren Buffett favorite.  Coca-Cola is also one of the best performing Dow (NYSE:DIA) components since the Dow peaked in 2007.
For those who need something stronger than the caffeine found in Coca-Cola, relief is found in AmBev (NYSE:ABV).  AmBev is a subsidiary of Anheuser-Busch InBev (NYSE:BUD), and produces a wide range of beers, soft drinks, and fruit drinks including cocktails.  The company also distributes Pepsi (NYSE:PEP) products in Latin America.  Shares are up 8% year-to-date.
Don't Miss: Did the BOE Just Confirm the Long-Term Picture for Precious Metals?
While some people enjoy a cold one, others may prefer lighting up.  Shares of Altria Group (NYSE:MO) are lighting up trading screens 11% this year. Through subsidiaries, the company manufactures and sells cigarettes and other tobacco products, including cigars and pipe tobacco.  Altria also holds an interest in the Miller Brewing Company, and shares currently pay a 6% dividend.
Cervantes once said, "He who sings scares away his woes."  Consumers and investors alike have been singing the praises of Apple (NASDAQ:AAPL) for years.  Shares are up 24% this year alone, as the company continues to hit high notes with new sleek products.  Apple's new iPhone 4S sold 4 million units in just its first weekend.  Since 2001, Apple's iPod has sold more than 300 million units around the world.
Rather than drink or sing their sorrows away, some people prefer to indulge in foods.  Chocolate lovers and investors continue to seek comfort in The Hershey Company (NYSE:HSY).  Shares have gained 27% this year.  The Hershey Company is one of the oldest chocolate companies in the US, and sells chocolate and sugar confectionery products in more than 60 countries worldwide.
Super Hot Feature: Is Bank of America About to Go Bust?