9 Apple Stories Accelerating Stock Investor Interest This Week
Wednesday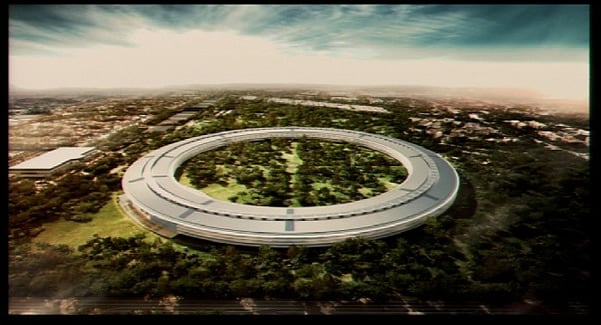 When asked whether Apple (NASDAQ:AAPL) was in trouble or if it had lost its cool in an interview Tuesday evening at the technology conference D: All Things Digital, Chief Executive Officer Tim Cook said "Absolutely not." He followed that affirmative stance by explaining that the company was capable of — and working on — technology and devices that would change the industry as significantly as the iPhone and iTunes have. "We've always suited up and fought," he added. With such confidence flowing out of the mouth of Cook, investors bid Apple into the green Wednesday. Shares closed up $3.51, or 0.80 percent, at $444.95.
Is Apple on the Verge of Securing a Samsung Sales Ban?
Does a recent decision by the U.S. Court of Appeals for the Federal Circuit bode well for Apple's push to win a permanent injunction against Samsung's (SSNLF.PK) infringing products? Although the case is not even remotely related to smartphone technology, the U.S. Court of Appeals' ruling on the Douglas Dynamics, LLC v. Buyers Products Company snowplow case may have a significant spillover effect on Apple's motion seeking a permanent injunction against a group of Samsung devices.
Last December, a jury found that 26 Samsung products infringed on Apple's patents and awarded the Cupertino-based company $1.05 billion in damages. However, U.S. District Judge Lucy Koh refused Apple's motion for a permanent ban on 26 Samsung products, based on her rigorous interpretation of the "causal nexus" requirement… (Read more.)
Will Apple Come Crawling Back to Samsung?
The thin glass market in Korea is booming thanks to demand for products from Apple and Samsung that feature LCD displays. However, industry insiders believe that the growing demand for this essential thin display material has also forced Apple to increase its reliance on supplier and rival Samsung.Korea-based IT news website ETNews reports that the Korean thin glass industry is expected to hit $464 million this year, which is 34 percent year-over-year growth. Although Apple has long relied on Samsung to supply various components for its iPhone and iPad products, the Cupertino-based company has recently been trying to reduce its dependence on its rival for displays and other parts. But now, the growing demand for thin glass has temporarily pushed Apple into a closer alliance with its smartphone rival… (Read more.)
Cook Stays Secretive on Apple TV and iWatch
Will Apple soon be stepping into the wearable tech market? Pundits and Apple watchers who were hoping to get some answers to this question at the All Things D conference in Palos Verdes, California, this week were sorely disappointed. Apple CEO Tim Cook kept his cards close to his chest when it came to discussing Apple's future plans for this lucrative market… (Read more.)
Follow Meghan on Twitter @MFoley_WSCS
Don't Miss: Is Apple on the Verge of Securing a Samsung Sales Ban?
Thursday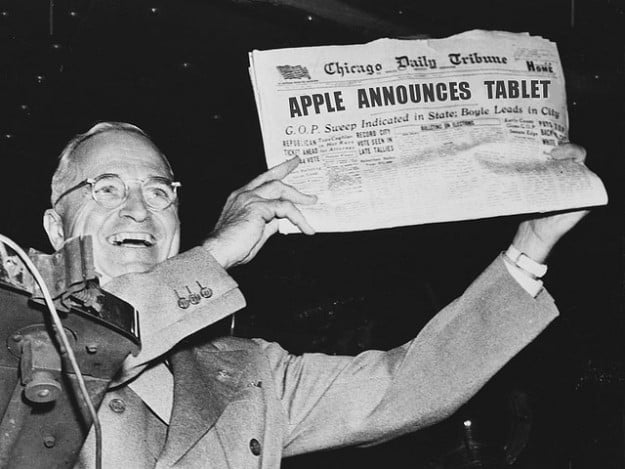 While Apple (NASDAQ:APPL) Chief Executive Officer Tim Cook declined to state exactly what "incredible ideas" the company has in its pipeline during his Tuesday appearance at the technology conference D: All Things Digital and The Wall Street Journal said he failed to "D-light" influential techies, investors have remained confident this week. The stock closed above $450 per share for the first time in several weeks, making Thursday the second consecutive day of gains. Shares ended the day up $6.63, or 1.49 percent, at $451.58. Here's a cheat sheet to today's top Apple stories:
Will Google Leverage Motorola Technology Against Apple?
Google (NASDAQ:GOOG) looks to be pulling out the big guns that it bought last year, and its target is the market share that Apple has been clinging onto and defending for the last six years. Since the launch of the first iPhone, Apple has been dominating the U.S. smartphone market, as well as many other countries' smartphone markets. It didn't hurt that the iPhone was essentially the first smartphone on the scene and didn't have a lot of initial competition. As time went on, Google launched Android, which gained mass appeal and appeared in all ranges of devices. This allowed Android to soar to the top of the charts for most popular smartphone operating systems. However, Google and many others still haven't managed to take away Apple's lead in the U.S. in terms of market share by manufacturer… (Read more.)
Apple vs. LinkedIn: Which Is the Superior Long-Term Investment?
Would investors be better off today if they had bought LinkedIn (NYSE:LNKD) shares instead of Apple two years ago? John Shinal at MarketWatch believes that the majority of investors would have benefited from investing some of their initial Apple profits into LinkedIn stock. However, he also notes that "timing isn't just one important factor in investing success — it's the only thing that matters." In this sense, some savvy investors could have made a lot more money on Apple stocks if they bought and sold their shares at the right time… (Read more.)
Greenpeace Loves Apple's New Green Hire
Apple's recent hiring of a former head of the U.S. Environmental Protection Agency has won it praise from Greenpeace. Greenpeace is one of the best known non-governmental environmental protection organizations, and a former outspoken critic of the Cupertino-based company's environmental practices. At the All Things D conference earlier this week, CEO Tim Cook revealed that Lisa Jackson, the former Administrator of the EPA, had been hired as Apple's vice president for environmental initiatives. Greenpeace, which has previously criticized Apple over its use of coal-based power sources for its data centers, was pleased at the news of Jackson's hiring… (Read more.)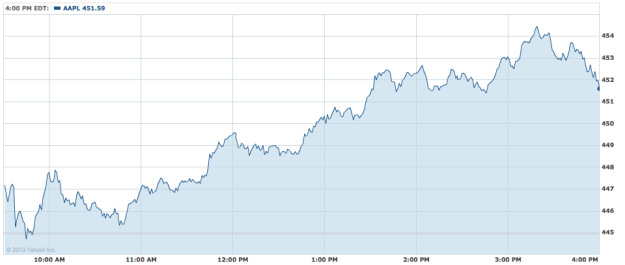 Follow Meghan on Twitter @MFoley_WSCS
Don't Miss: Analyst: Apple Has Found Supplier Wisdom!
Friday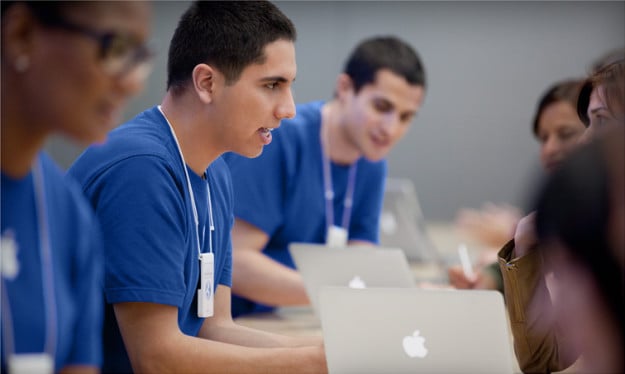 Wells Fargo analyst Maynard Um believes that now is a great time to put your money into Apple (NASDAQ:AAPL) stock. Outlining various positive factors that he believes will soon raise Apple's stock, Um wrote in a recent research note that "investors should not wait for June quarter results as we believe sentiment could improve into further supply chain builds, Apple's Worldwide Developer Conference (early June) and into multiple product launches in the back half of the year." Apple shares are making modest gains. Despite closing down $1.85, or 0.41 percent, at $449.73 on Friday, the stock gained 3.8 percent over the course of the 5-day trading period. Here's a cheat sheet to today's top Apple stories:
Analyst: Apple Investors Could See a June Bounce
Options traders may have an opportunity to take advantage of Apple's tendency to bounce in the weeks leading up to the annual Worldwide Developer Conference. The options trading team at Goldman Sachs is advising options traders to purchase Apple June $450 calls in anticipation of this historically documented gain, reports Barron's. This year's WWDC begins Monday, June 10 and runs through Friday, June 14.
The Goldman Sachs team believes that the debut of the Cupertino-based company's new iOS 7 and the possible unveiling of other new services will instigate a gain in Apple stock. Goldman Sachs's analyst Bill Shope believes that these services may possibly include an e-wallet for electronic payments or even improvements to Siri, Apple's voice-activated digital assistant… (Read more.)
Has Apple Figured Out This Giant Market?
Has Apple finally discovered the formula for success in the Indian market? Thanks to price discounts and an equal monthly installment plan option, Apple has managed to boost the sales of its iPhone by 300 to 400 percent over the last several months, according to Credit Suisse via the Economic Times. Apple has combined its aggressive new pricing strategy with a monthly installment plan crafted especially for the Indian market. The equal monthly installment plan, or EMI, allows Indian consumers to make a small initial down payment on an iPhone 4 or iPhone 4S and then pay the rest of the balance off over a 6 to 12 month period without incurring any interest… (Read more.)
Ireland to Senate: Apple Has No Special Tax Deal
Did Apple receive preferential tax treatment for its subsidiaries that are located in Ireland? According to Michael Collins, the Ambassador of Ireland, the answer is a definitive "no."Collins wrote a letter to the senators who headed up the recent Senate hearing that looked into Apple's offshore tax practices. In the letter via Forbes, Collins makes it clear that "there is no possibility of individual special tax rates being negotiated for companies." Collins appears to be referring to the allegation made at the Senate hearing that Apple had negotiated "a tax rate of less than 2 percent with the government of Ireland — significantly lower than that nation's 12 percent statutory rate."… (Read more.)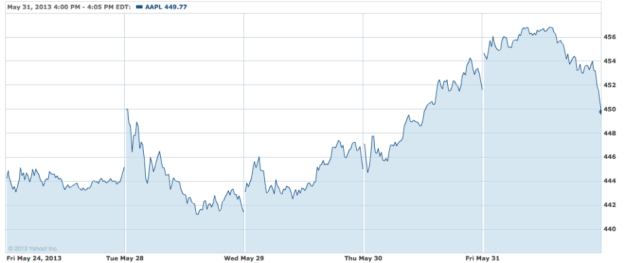 Follow Meghan on Twitter @MFoley_WSCS
Don't Miss: Ireland to Senate: Apple Has No Special Tax Deal.